Many women remain uninformed of the importance of vaccines while pregnant. It may make them vulnerable to contracting illnesses that could affect them and their unborn children. It is important for expectant women to talk to their doctors and figure out which immunizations they need during pregnancy and which ones should wait until the child is born.
All vaccines certified by the Food and Drug Administration are safe for human intake. However, they should be administered under a doctor's prescription to ensure that they are taken at the right time and for the right reasons. Also, some vaccines, such as the influenza vaccine, contain eggs that may pose allergic risks to some women.
What Vaccines Should You Take?
The following vaccines are passed as safe for expectant women who may be at risk of contracting infections.
Influenza Shots
This vaccine should be administered in its inactivated form in preparation for flu season. The flu may seem like an insignificant virus, but it may cause severe damages to a pregnant woman's body. During the pregnancy period, a woman's body gives most of its energy and attention to creating the baby, thus suppressing the immune system. Influenza shots are critical for protecting both the mother and her unborn child from the flu virus after exposure. While healthy adults can carry the flu virus without showing any symptoms, expectant women will show a number of signs as the immune system tries to fight off the infection. Symptoms may include the following:
Respiratory complications
Premature labor
Severe nausea and vomiting
Episodes of confusion
In severe cases, miscarriage
Doctors recommend that pregnant women take the flu shots during the third trimester as it is the safest time for both mother and unborn child.
Acellular Pertussis (Tdap) Vaccine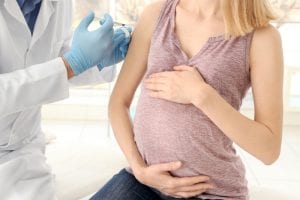 This vaccine protects both the mother and unborn child from whooping cough. Whooping cough can be life-threatening to anyone and mostly to fetuses with immature immune systems. Mothers who skip this vaccine expose their children to the disease after birth. The condition is a silent killer and doesn't manifest itself through vigorous coughing in babies below the age of one year. Instead, the baby may stop breathing and succumb to death without warning. Getting the Tdap vaccine during pregnancy, preferably between 27 and 36 weeks of gestation, prepares the body to protect the baby from whooping cough. In case you miss this vaccine, the doctor will recommend it immediately after the birth of the baby.
Hepatitis B
Hepatitis B is a severe liver infection that is spread through contact with infected blood and bodily fluids. The disease can easily be passed from mother to unborn child during delivery. The hepatitis B vaccine should cover the unborn baby and protect him or her from getting infected with the disease. Also, if you had been vaccinated before, you might want to get the vaccine again to prevent future infection for both you and your child. For full immunity against hepatitis B, doctors will recommend a series of three doses. The first dose should be administered before pregnancy, the second at one month and the third at six months after the initial dose.
Can Immunizations Harm Your Unborn Baby?
Some vaccines can cause adverse effects to the baby if administered during pregnancy. This reason necessitates having a doctor guide you through vaccines considered safe during expectancy. Vaccines with live viruses should not be given to pregnant women since they contain activated strains of the virus. Some vaccines should be given to the mother in the second or third trimester, while some should only be given after the birth of the child.
Vaccines such as hepatitis A, measles, rubella and mumps should be taken after birth. These vaccines have adverse side effects on the developing child, such as congenital disabilities, miscarriage and premature births. It is therefore prudent to follow a doctor's instructions carefully when taking vaccines before, during and after pregnancy.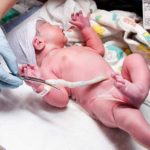 Most of us are familiar with bone marrow and blood donations. Cord blood donations are along the same lines as these when it comes to their use. The blood found in the umbilical cord and placenta shortly after childbirth contains stem cells that are useful for treating many diseases, as the cells are able to grow into healthy blood cells and immune system cells, among others.
Read More


Concerns and Complications

Pregnancy Basics