What happens to your body during pregnancy, happens to your baby. Most new pregnant moms to be do not realize they need to get vaccinated for specific infectious diseases during and after their pregnancy.
It is quite possible to contract diseases that are easily transferred to your unborn child in utero. Outbreaks like the recent measle scare at Disneyland makes it increasingly important for pregnant moms to be to make sure they get the appropriate vaccines during pregnancy.
Vaccines During Pregnancy
There are specific vaccines all pregnant ladies are required to obtain during pregnancy to help prevent the transformation of diseases to their fetus. The CDC acknowledges the benefits of vaccinations for the health of your family so they have suggested specific vaccines for all expecting mothers to help keep them and their babies safe. The CDC suggest women acquire vaccinations for Pertussis (whooping cough), hepatitis B, flu, required vaccines for traveling, and for some women, hepatitis A and meningococcal vaccine are also required.
Pertussis (Whooping Cough)
The U.S. Centers for Disease Control and Prevention reported 41,000 whooping cough cases in 2012. For this reason, the whooping cough/Pertussis vaccine is the number one vaccine suggested for pregnant women. Babies who contract whooping cough have a high death rate. This is an infectious disease fatality rate in 2012 was 20 infants under the age of three months. As a note, the booster vaccination should be done before pregnancy.
Hepatitis B and A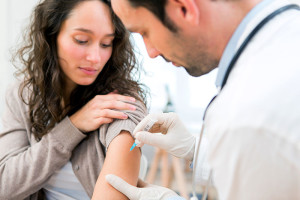 Hepatitis B is an infection that affects the liver. This infection can create inflammation of the liver, liver cancer, chronic liver disease and death. Pregnant women with hepatitis B can pass the disease on to their unborn child during the process of childbirth, thus the reason they should obtain a vaccination during their pregnancy. Hepatitis A is a low-grade liver disease. This disease is not as serious as hep B, but it is something to consider taking precautions for. It is not likely the disease will be passed on to an unborn fetus, however, the possibility is there. Hepatitis A can cause infection in the newborn and premature labor. This is a vaccination that should be considered for pregnant women going on a trip. Hepatitis A is a disease contracted through contaminated water and food.
Flu Vaccine
The flu is a common disease anyone can catch. Pregnant women are urged to obtain the flu vaccine because if they contract the virus, they will be at risk and their unborn child will also be at risk. Pregnant women who get the flu find themselves sicker than they would be any other time. They can go into premature labor, their babies can be born smaller than the normal size of a healthy born baby, be required to be hospitalized after birth and in some rare cases experience death. Pregnant women should wait until the second trimester before they obtain the flu shot because the fetus is still in a sensitive period. All persons who are in touch with the woman should also be vaccinated to reduce the risk of spreading the flu. Other necessary booster shots include tetanus (issued every 10 years), diphtheria (issued every 10 years), typhus (issued every three years), meningococcal and TBE.
Vaccines Before Pregnancy
While the vaccines mentioned above are allowed during pregnancy, live vaccines are prohibited. These include, for example, children's diseases such as rubella, measles, varicella and mumps, as well as yellow fever. These vaccinations should be administered before pregnancy.
What to Consider
There are a number of vaccines required before, during, and after pregnancy. The required vaccines will be determined by various factors such as your lifestyle, medical history and age. It is important to put a vaccination plan together with your doctor when you are planning all the other tests and procedures required of all pregnant women. Basically when it comes to seeding, as much as necessary and as little as possible is the key. Your baby develops their immune system from your immune system before birth. The proper vaccination during pregnancy will help their little immune system develop strong enough for them to survive on their own once they are born. The vaccines during pregnancy you receive today while you are pregnant can be the armor your baby needs to endure all the kisses and snuggles they will receive from every family member and friend who will love on them as soon as they meet them.
The principles of chronobiology can help you attain the best nutrition possible for both yourself and baby, by providing the body essential nutrients at the particular times of the day that guarantee optimal absorption.
Read More

Prenatal Health