Congratulations on your upcoming baby! Conquer meal planning and freeze make-ahead meals before your baby arrives. Here are 10 DIY frozen meals ideas.
5 Breakfast DIY Frozen Meals
Experts say that breakfast is the most important meal of the day. It fuels your mind and productivity to be ready for anything life will throw at you. Try these easy and nutritious meals:
1. Breakfast Burritos
Breakfast burritos are a convenient grab-and-go breakfast without having to stop at a fast-food restaurant and pay the extra money to enjoy one.
Pick your favorite tortilla.
Cook sausage crumbles and scrambled eggs.
Assemble burritos with shredded cheese.
Wrap them up individually in tinfoil or plastic wrap.
Remove packaging before microwaving. Microwave and enjoy with a side of salsa or hot sauce.
2. English Muffin Sandwiches
English muffin breakfast sandwiches can be easily customized for your dietary needs. Some customization options include:
Sausage patty, egg or egg white, and cheese.
Bacon, egg white or egg, and cheese.
Ham, cheese, and egg or egg white.
Expert Tip: Bake your eggs in the oven in a pan with square or circular molds so it is easier to build the sandwiches before freezing.
3. Egg and Vegetable Muffins
These little fluffy pillows of deliciousness are an awesome quick bite in between baby's playtime. For egg and vegetable muffins:
Use a 24-cup mini-muffin pan.
Spray the pan with cooking spray for easy removal.
Mix eggs with onion and red or green bell pepper.
Pour egg mixture evenly into the 24 cups.
Make sure your oven is preheated to 350 degrees F and cook them for 12–15 minutes or until a toothpick comes out cleanly when stuck into one of the egg muffins.
4. Waffles or Pancakes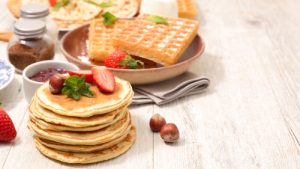 So what's your favorite: waffles or pancakes? Whichever is your favorite, make one of these breakfasts ahead of time. You can use a boxed mix or prepare your own from scratch.
Mix the batter per the instructions on the box or from a recipe.
Cook in a waffle griddle or on a flat griddle for pancakes.
Once cooked, wrap each one individually or put a few in a freezer bag for easy freezing.
When ready to eat, pop waffles in the toaster to reheat them. For pancakes, heat in the microwave or oven.
5. Breakfast Muffins
Whether you use a popular boxed muffin of your choice or you make these delights from scratch, it's so easy to customize a breakfast muffin. You can try:
Banana muffins
Blueberry muffins
Apple cinnamon muffins
Traditional muffins (top with butter or flavored cream cheese)
5 Versatile DIY Frozen Meals
Versatility and variety are great to have for your meals so it does not feel like you are eating the same dish constantly. As a new or repeat parent, versatility and variety with your meals is something you can look forward to when your days start feeling redundant with infant care.
1.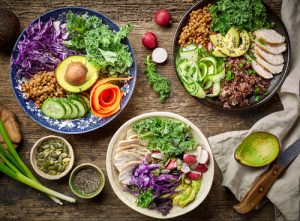 Power Bowls
Power bowls are versatile because they can take on many themes such as curry, Mexican, Asian and more!
Try these grain, vegetable and protein ingredients when making your frozen power bowls.
Rice
Quinoa
Shredded chicken
Ground beef crumbles
Red or green bell pepper
Sweet, red or green onion
2. Macaroni & Cheese
Who doesn't like macaroni and cheese (besides lactose-intolerant people, of course)? Mac and cheese can take on themes such as traditional, creamy, bacon mac and cheese, Italian, chili and more.
Follow your favorite mac and cheese recipe.
Add the fixings to fit your desired theme.
Freeze in individual servings or in a throwaway pan for an easy family dinner.
3. Enchiladas
Enchiladas are a cheesy and zesty protein powerhouse to keep you going through those never-ending diaper changes.
Prepare shredded chicken or ground beef crumbles.
Wrap your meat into the tortillas with some shredded cheese.
Place in a casserole dish. Top with enchilada sauce and shredded cheese.
Bake at 350 degrees F for about 45 minutes or until cheese is all melted.
Freeze in a throwaway pan. When it's time to reheat, cook in the oven. Place fixings such as chopped tomatoes, sour cream and lettuce for garnish.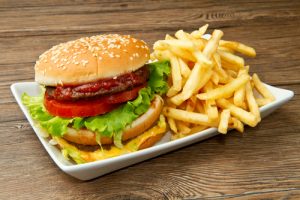 4. Burgers and Fries
No need to order fast food when you can have burgers and fries right in your freezer!
Pick up your favorite frozen fries from the store (or make your own if you're feeling creative).
Get ready-made beef patties or make your own with ground beef.
When it comes time to eat, cook the meat on a pan and throw the fries in the oven.
Assemble your burger with your desired fixings and enjoy!
5. Bean or Meaty Chili
You can customize chili to be vegan, vegetarian or meat based. It's great for a cold evening after putting your infant to sleep for the night.
Use your Crock-Pot or slow cooker.
Throw in four cans of kidney beans.
Add chili seasoning, a little bit of water, salsa and cooked meat (if desired).
Cook for four to six hours. Garnish with chopped tomatoes, sour cream and shredded cheese and enjoy!
Take Charge of Meal Planning
Parenting is rough. We get it! But taking that time to take charge of meal planning and making DIY frozen meals ahead of time will make your life that much easier for when it's time to bring your bundle of joy home.


DIY Projects

Preparing for Baby