Many expectant parents are concerned about the health of their baby and the factors that influence it, but very few parents know that the time of conception can also play a role on their baby's well-being.
Preterm birth rate is higher in "May babies"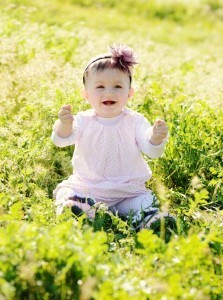 Researchers have long been concerned with the question of how the time of conception can affect children's health. By evaluating data from more than 1.4 million US children, the American scientists Janet Currie and Hannes Schwandt from Princeton University were able to prove that a relationship between health and the time of conception exists. They found that babies who were conceived in the month of May had a higher probability of being born too early, with the preterm birth rate for babies who were conceived during this month increasing by 10 percent. This may be related to the fact that there is a higher incidence of flu during the later months of the pregnancy in January and February, which can trigger birth. In turn, children who are born too early have a higher risk of health complications. The researchers also found that children of mothers who were vaccinated were less likely to be born preterm than children of mothers who were not vaccinated during the flu season. In addition, the study pointed to differences in birth weight: Children who were conceived during the summer months and were born in April weighed an average of eight to nine grams more. This was attributed to higher weight gain by the mother during pregnancy. According to the researchers, influences such as nicotine consumption or marital status were not able to explain these relationships. To explore this connection in more detail, the researchers only evaluated data from mothers who had given birth to more than one child. Because this meant that babies from the same mother were born in different seasons, researchers were able to exclude the possibility that the seasonal correlation had anything to do with the mother herself.
Time of birth and health later in life
There are numerous studies that correlate the time of birth with children's subsequent well-being. Among many other factors, differences in height, IQ, their level of education, life expectancy and income have been found based on the time of birth. Summer babies are said to develop heart disease more often, whereas children who are born during the winter months are said to be more likely to develop schizophrenia. According to the researchers, such correlations could be explained by seasonal fluctuations of certain environmental factors. Furthermore, it was shown that mothers with a lower socioeconomic status tend to give birth in months during which more complications arise during and after labor. However, the exact relationship is still unclear.
What do these results mean?
While the researchers say that their results coincide with those of previous studies, they point out that in the past, too little attention has been paid to the influence of influenza on an increase in preterm births. Because babies are especially vulnerable to an influenza infection of the mother during early pregnancy, the research results could prompt health authorities to revise the recommendations for flu vaccinations in pregnant women to prevent preterm births. Although the study results suggest that babies who are born during the summer months have certain health advantages, the results aren't conclusive enough to clearly show that vaccination could reduce the risk of preterm birth during the winter months, and future research is necessary.

Prenatal Health