Guest author: Kaylee Schwechheimer
Get the right equipment:
Getting a reliable pump is very important. You don't want to get frustrated. To put it simply, you get what you pay for. A more expensive pump will last the entire year and more, plus it will have better suction. Cheap pumps or pumps offered by insurance often do not work efficiently and just leads to frustration or not being able to produce any milk. I have no complaints about my pump. I purchased the Medela Pump In Style Advanced On-the-Go Pump. It may seem costly at around $275, but have you priced baby formula?! I used the pump bottles it came with and the On-the-Go cooler. I found mason jelly jars (5 oz) worked great for freezing and not tying up your pumping bottles. These glass jars are much safer than plastic bags and make thawing and warming milk a breeze.
Pump in the morning, every morning: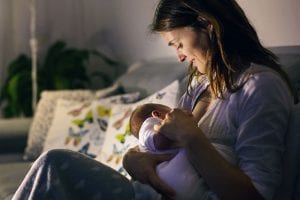 Your milk supply is always more in the morning than in the evening. Also, my baby was always more hungry in the evening. Every morning I nursed my baby at least on one side. I would then pump the other side. If my baby decided to nurse on both sides, I would wait 30 or 45 minutes and then pump.
Acquire a stash:
Every morning when you finish your morning pump, store the milk in the fridge. The next morning, repeat until the milk is chilled. (Never combine warm and chilled breast milk.) Once both bottles of milk are the same temperature, pour both into a mason jar. Label the jar and freeze. Over time your stock will really accumulate. It's really a good idea to keep a stash of milk for many reasons. If you get stuck in traffic or at the doctor office, it's always nice to have extra milk the babysitter can pull out of the freezer. If you have to rush out of the house unexpectedly, you can pull out a jar for your partner to feed to the little one. Also, just in case you were to come down with a bad sinus infection or the like and need to take antibiotics, you can use your stash. This way you can pump and dump until your milk is safe again.
Teach your baby to use a bottle:
Once your milk supply is plentiful and your baby is eating well, it is time to introduce a bottle. This is usually around 6 to 8 weeks of age. Sometimes it's best for someone else to feed the baby the bottle as he/she may not want to take it from you. We occasionally fed our baby until he got the hang of it. Make sure to try different brands of bottles. My baby preferred the brands Avent Natural and Tommee Tippee Closer to Nature, but there are plenty others available. To start out, you'll want to use slow-flow nipples and increase the flow as your baby gets older.
Eat enough:
You want to make sure you eat enough calories and nutrients for your milk supply. You will be very thirsty and hungry from when your milk is establishing all the way until you start introducing food to your baby. Make sure you are eating about 300 extra calories a day primarily from healthy foods. You may even need to up it to 500 extra calories. Drink a lot of water and always take a water bottle with you to bed. If you are like me, you will wake up in dire need of it in the middle of the night. Once your baby is eating cereal and solids, you will want to keep a closer eye on how much you are eating. This is when I was started to cut my calories back to maintenance calories. This happened for me around 9 months to 1 year old. The main focus is to keep your supply up. Don't be fooled though—even if your breasts seem smaller or softer, that is not a clear sign of whether or not your supply is waning.
Find a schedule that works:
On the first day of work for the week, we would thaw milk for the baby at the babysitter's place. That day I would pump at work and the little guy would drink that milk on day two. Repeat this until the last day of work for the week. This is when you will freeze your milk or store it in the back of the fridge for the first day of work the next week.
Teach your baby to use a sippy cup:
Sometimes if I had extra milk I would put a little in a sippy. This will give your baby a chance to learn to drink it on its own. Also, it makes me feel good to know if he didn't eat that well that day he is getting a little extra nutrition.
I hope these tips help you make it longer than a year nursing. There will always be tough times but hang in there! Comment below and let me know how long you nursed your baby.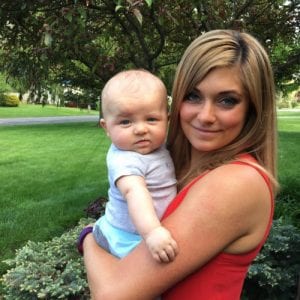 Kaylee Schwechheimer is the creator of The Fit Mommy Online, where she shares her passion for fitness, nutrition, and cosmetology all while juggling her favorite job of being a mom. 

Breastfeeding

Postpartum Basics