New research and federal guidelines show that the COVID-19 vaccine is safe for pregnant women. The finding, which comes after extensive research into how COVID-19 vaccines operate and scientific debate, has found that the COVID-19 vaccine can safely be given to pregnant women, as it poses no risk to the woman or her unborn child. This finding has been issued by medical experts and organizations in the United States and around the world.
Why Vaccination During Pregnancy can be Useful
These findings, which are supported by both the United States government and medical experts at places like the American College of Obstetricians and Gynecologists, have said that there is zero evidence that pregnant women who receive the vaccine will suffer from any negative side effects. Thankfully, this finding applies to pregnant women and their babies. As vaccination efforts continue, it seems that only a very limited set of individuals, in general, have a negative reaction to the vaccine, and that side effect has nothing to do with pregnancy.
More specific studies are needed still being researched at this time, however, when it comes to the COVID-19 virus, what is clear is that the risks associated with a pregnant woman getting COVID-19 are significant. COVID-19 can damage a variety of vital functions, including heart and lung efficiency. This, of course, can be devastating for anyone, but even more so for pregnant women, who have additional burdens placed on their heart and lungs. As such, they are at additional risk for COVID-19 related complications. This finding implies that pregnant women should be more likely to be vaccinated.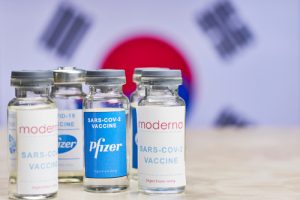 This finding has been issued by the United States government and related medical experts, and the World Health Organization, instructs that "based on what we know about this kind of vaccine, we don't have any specific reason to believe there will be specific risks that would outweigh the benefits of vaccination for pregnant women."In addition, many American doctors, who note that the available evidence and manner in which the Moderna and Pfizer vaccines work would imply no risk to pregnant women. Instead, they note that the risk of COVID-19 in pregnant women, which includes severe health complications for both the women and their baby, makes it so that women should absolutely be vaccinated if they can be.
COVID-19 Vaccine and Pregnancy Results
In order to understand how these vaccines are safe for pregnant women, it is important to understand how they work.
Both vaccines operate in slightly different ways. Pfizer's vaccine is an mRNA molecule. mRNA stands for a messenger molecule. This molecule is injected into the individual in two doses where it joins with cells inside the body and passes along instructions on how to build "spike proteins." These proteins are then used by the body to create more proteins and other cells that protect the individual from a COVID-19 exposure. Moderna's vaccine works in a similar manner. It is important to realize that this keeps the impact of the vaccine relatively isolated to the specific genetic sequence of COVID-19. This means that other functions of your body are likely to remain unaffected by the vaccine.
In addition, it is known that the vaccine contains no live virus and is eliminated before it can travel far from the injection site. Furthermore, recent studies have indicated that antibodies appear to be capable of traveling through the placenta, thus giving babies immunity to COVID. This can be a wonderful thing for vaccinations.
While the Moderna and Pfizer vaccines have entered phase three of testing with the additional distribution of the vaccine, when it comes to pregnant women's effects due to historical restrictions on including those who are pregnant in clinical trials, pregnant women were not specifically included in the trials for the vaccines. The vaccine manufacturers do plan to conduct these clinical trials at a later date, however, they are currently focused on completing the first Phase 3 trials and distributing vaccines under the Emergency Use Authorization (EUA). With current results and known risks of COVID-19, however, pregnant women are encouraged to be vaccinated if they can be.
What the Finding Doesn't Apply To
The new Johnson & Johnson vaccine operates in a different manner than the Modern and Pfizer vaccine. As of this writing, it has not been issued an Emergency Use Authorization in the United States. As such, there is no evidence to indicate how it may impact pregnant women. When it comes to this version of the vaccine, pregnant women are encouraged to speak to their healthcare provider about any concerns they may have about this particular COVID-19 vaccine.
There have been some false rumors spreading online that suggested the antibodies formed against the spike protein as a result of COVID-19 vaccination target a protein in the formation of the placenta in pregnant women. It is important to state however that there is no data to support this rumor and that the structure of the spike protein of the virus is vastly different than the proteins found within a placenta.
Covid-19 Vaccine During Pregnancy: Yes or No?
The American College of Obstetrics and Gynecology recommends vaccination in individuals actively attempting pregnancy or contemplating pregnancy and meet the criteria for vaccination based on current prioritization.
The available evidence, thus far, indicates that the COVID-19 vaccine is safe for pregnant women to take. Of course, it ultimately comes down to a personal decision between a woman and her doctor, and more evidence will likely come out in the future that confirms or contradicts this finding. However, for now, it appears that pregnant women can safely take this vaccine.

Pregnancy Basics