One of the most rewarding and beautiful moments in life is introducing a new member of your family into the world. Although you may have another child in the household, having a companion for them as they grow older is beneficial for helping your toddler shape their personality and social intelligence.
However, some parents struggle with addressing the power dynamic between their newborn and their older child. Some children may even demonstrate erratic behavior, emotional outbursts and attention-seeking actions to get a reaction out of their parents. If you've begun to notice these behaviors from your child and want to implement strategies that help them form a healthy bond with their sibling, here's what you need to know.
Helping Your Toddler Adjust to Their New Role in the Household
The lifestyle and experiences of a young mind are, without a doubt, the foundation on which they build their personalities. Elements from their favorite television shows, their friends at daycare and the family members we introduce them to play a significant role in their childhood development.
Knowing this, we must allow their position within the family to form naturally over time by introducing positive reinforcement for good behavior. Rather than making your older child feel like a burden or a troublemaker getting in the way, reach out and encourage them to interact with their sibling productively.
By giving your older child a pivotal role in their sibling's upbringing, you allow them to build their sense of pride and achievement. When your older child starts to see themselves as a mentor for their sibling to follow instead of a rival, they begin to act accordingly.
Transitioning into the Toddler Years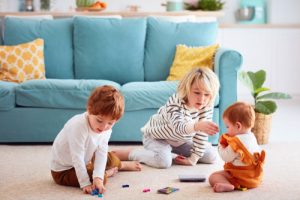 Once your older child has become mobile and starts communicating regularly, we must reinforce good behaviors and adjust things we don't want to see in the future.
Some parents may notice their child jokingly refer to ways of antagonizing their sibling or physically harming them in passing. If your child has demonstrated these behaviors recently, stop them before it's too late. While their young mind is developing, your child is beginning to form patterns and habits that will affect their personality in the years to come.
If you fail to correct violent or antisocial behavior once it presents itself, your child will feel justified in their beliefs and showcase these behaviors more often. Moreover, never shift blame to your newborn or hold them responsible for your older child's mannerisms. If your older child hears you speaking ill of their sibling, they're more likely to pile on criticism and judgment in the months and years that follow.
Setting Aside Time for Your Older Child
Helping your toddler understand their new position in the family dynamic becomes easier to manage when you dedicate time out of the day specifically for them. Whether it's a 20-minute nap on the couch or watching their favorite television show together after dinner, toddlers need one-on-one time regularly.
In conjunction, consider recruiting other individuals in your household to take over your duties with the newborn while you carve out a few minutes for your older child. By balancing responsibilities between family members, you free up valuable time to build your relationship with your firstborn. If you're having trouble helping your toddler adjust, here are some perfect ways to spend time alone together:
Bring them with you while running errands and play their favorite music.
Read books to them in the evening that demonstrate toddler-and-sibling dynamics in an easy-to-digest way.
Play outside with them for 30 minutes on sunny days.
Take funny photos and videos of one another.
When starting your day, spend one-on-one time with your older child by watching cartoons, cooking breakfast and brushing their teeth.
Helping your toddler ride a bike, throw a ball or paint a picture can establish a strong and loving bond.
Although you may feel these tasks are too simplistic to build rapport with your older child, they're pivotal moments in their young lives. By creating time specifically for your older child to interact with you, they'll be more inclined to freely let go when you need to tend to your newborn.

Postpartum Basics

Preparing for Baby

Work, Life, Baby, Balance