When it comes to sexually-transmitted diseases (STDs) and viruses during pregnancy, a common one is to be addressed to prevent further issues down the road. Despite the fear of having a STD, women infected with the HPV virus may still be able to endure a safe pregnancy and deliver a healthy newborn.
This short blog will examine what this virus is, the possible symptoms an afflicted individual might experience, the impacts the organism can have on women and their children during and after pregnancy, possible treatment options, as well as the safeguards women can implement to prevent becoming infected.
What Is HPV?
The Human Papillomavirus is one of the most common sexually-transmitted diseases that impacts almost 80 million Americans. About 80 percent of all people who are sexually active are infected with the virus at least once in their lives. It can be distinguished over 100 different HPV viruses, which are divided by researchers in high-risk or low-risk viruses, with high-risk viruses represent a particularly high risk of the development of cancer. The most common manifestation indicating infection is a condition known as genital warts. In many cases, however, the virus is asymptomatic. Although the immune system is often able to fight off the virus, in some cases it can become chronic and increases an impacted individual's chances of developing various reproductive system cancers.
Can the Virus Impact Pregnancy?
Should the virus manifest in warts that appear in or around a woman's cervix, abnormal cell growth could occur in that region. Women with the virus or whom have a history of the infection are advised to report this to their gynecologist or primary care physician. Pregnancy, much like a case of virus-related warts may precipitate structural changes within the cervix. Unchecked abnormal growth could eventually lead to cancer.
That said, however, the human papilloma infection rarely interferes with a woman's ability to become pregnant and is not believed to increase the risk of complications such as miscarriages, birth defects or premature births.
Influence of The Virus Following Pregnancy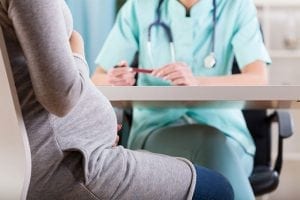 It is rare for infected women to pass the virus on to their newborn children. Even in instances when a child is born carrying the virus, the chances are low that he or she will ever become symptomatic. In most cases, the virus will eventually exit the stricken young person's system on its own.
If the child is exceptionally affected by HPV, his respiratory tract may suffer, with wart-like growths in the larynx area being possible. The pregnancy chance is usually not compromised compared to healthy women. However, there may be several warts on the genitals and/or uterus. However, they are usually no obstacle to childbirth.
Cases of genital warts can recur following pregnancy. In many instances, such flare-ups do not lead to any severe health repercussions. However, women with a family history of cervical cancer or other reproductive system malignancies are cautioned to have their cervixes and other reproductive organs routinely screened for significant or abnormal growths.
Is the Condition Treatable?
Once infected with the Human Papillomavirus, the organism cannot be eradicated. That said, there are various treatments for genital warts. Such therapeutic protocols include:
Removal
The specific method employed will depend upon factors such as the size of the warts, their location, a woman's age, if she is pregnant and her general health. That said, specific excision tactics include surgery, laser treatments, freezing and electro-cautery.
Prescription Topical Treatments
A physician may prescribe topical applications known to soothe or eliminate cases of genital warts. Especially smaller warts can often be treated with creams, ointments or special solutions.
How to Avoid Infection
The best form of treatment is to avoid contracting the Human Papillomavirus to begin with. Women may avoid contracting the infection by:
Limiting Their Number of Sexual Partners
Engaging in sexual intercourse with multiple partners, especially those for whom the women in question do not know their sexual histories, greatly increases one's chances of infection.
Using Protection
Sexually active women or those who insist on having multiple sexual partners can decrease their chances of developing the virus by insisting their male partners use protection during sex such as condoms.
Vaccines
There are currently two Human Papillomavirus vaccinations available to the public, which are approved in more than 120 countries worldwide. It is important to note, however, that while vaccinations may prevent most types of the virus, it is not effective against every single strain. The vaccine is recommended for girls and boys aged between 9 and 14 years, divided into two partial vaccinations.


Concerns and Complications

Pregnancy Basics