According to research, darkness begins an important process for the development of a growing fetus. Light pollution poses a threat to pregnant females, as well as unborn infants.
Exposure to light during the evening and night hours may also have a detrimental effect on the reproductive health and fertility of those women hoping to conceive. Fortunately, there are many proactive methods to avoid the disastrous side effects of artificial lighting.
How Does Light Affect Pregnancy and Conception?
Low quantities and poor quality of sleep for an expectant mother may also cause complications during birth. Disruptions in normal sleep patterns have a direct effect on the immune system and can cause increased levels of swelling throughout the body. Often referred to as edema, water retention is a normal occurrence during most pregnancies. However, increased amounts of swelling and inflammation are signs of other conditions such as preeclampsia. Marked by high blood pressure, or hypertension, protein in urine and possible damage to the kidneys or level, preeclampsia is more prevalent after the 20th week of pregnancy. These types of complications present a higher risk for both the mother and child, in some instances leading to death. In addition, increased levels of light around normal bedtime may also contribute to higher anxiety and stress, which means falling asleep and remaining asleep is more difficult.
Women trying to conceive should seek a minimum of eight hours of sleep in a dark room on a regular basis to ensure the necessary level of melatonin is released into the bloodstream. Melatonin is the hormone that regulates sleep cycles and circadian rhythms. When there is less light in an area, the brain releases the chemical to communicate with the body that it is nighttime and to prepare for a period of rest and sleep. For those trying to conceive, the chemical protects the eggs and is crucial during the ovulation process.
Melatonin and the Already Expectant Mother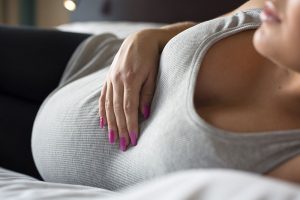 On the other hand, women who are already pregnant should seek to maintain higher melatonin levels using the same process as those trying to conceive. If levels of melatonin begin to decline, the confusion caused by the mother's biological clock may also lead to behavioral disorders determined later in the newborn's life including autism, Asperger's syndrome and attention deficit-hyperactivity disorder (ADHD).
What Exactly is Light Pollution?
Light pollution is probably not a term discussed as much as air or water pollution, nonetheless, it is still quite important to educate yourself on how it may affect your health. Light pollution is simply caused by unwanted and excessive artificial light, usually outdoor lighting such as illuminated street signs and billboards. It poses serious risks for the climate, animals and humans—especially pregnant women. Depending on the locale, some areas may experience more light pollution than others. For example, inhabitants of large cities or urban areas are at a higher risk of experience sleep disturbances due to artificial light when compared to residents of smaller towns or rural areas.
Pregnant women should avoid light pollution by using light-darkening curtains and shades to block artificial rays and ensure televisions or other electronic devices are powered off when it is time to sleep. While the use of nightlights is also frowned upon, if some light is absolutely necessary during sleep, it is recommended to use bulbs with a red or yellow glow. Standard blue or white bulbs could cause further disruption to sleep patterns and other complications discussed above.
Bringing it All Together
Whether pregnant or trying to conceive, melatonin is essential to regulate each individual's sleep cycles. During pregnancy, the hormone is paramount to ensure the mother and child receive enough rest to avoid complications. Since it also protects eggs during ovulation, melatonin is vital during the conception process. Females who are expecting or planning to conceive should avoid light pollution to ensure the healthy, complication-free birth of their newborns.

Everyday You

Melatonin Supplementation


Sleep