Postpartum beauty is an important thing to take care of after you have given birth, and one that is often times overlooked. It's not just about the skin's appearance on the outside, but also about the health inside, as well.
During postpartum, the body's hormones are still unbalanced as they begin to recover from pregnancy and return to a normal state, thus these hormonal fluctuations can lead to the onset of breakouts and skin changes. These hormonal fluctuations, in combination with dehydration, and new physical and emotional stress can all cause or exacerbate skin issues such as itch, dryness or breakouts.
Focusing on your health and selfcare will not only help you feel better during those first few months as a tired new mom, but your skin will reflect the care. If you're curious about postnatal beauty and care routines, don't worry — we've got you covered!
Here are some tried and true tips to help you look and feel great:
Use a Gentle Cleanser
Using a gentle cleanser is one of the first steps to taking care of your skin after giving birth. This will help remove any excess oil and dirt buildup on your face, which can cause acne breakouts or clogged pores. You can use a mild cleanser that contains salicylic acid, glycolic acid or lactic acid, as these ingredients help exfoliate dead skin cells, so they don't clog pores.
Exfoliate Regularly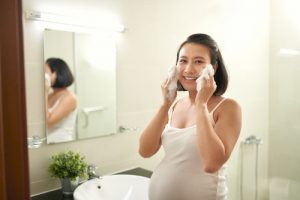 After cleansing your face, it's important to exfoliate two to three times per week, with a gentle scrub or mask to prevent clogged pores from forming and to keep your pores clean, clear, and healthy-looking.
For those with sensitive skin or for those who have never used an exfoliator before, slowly apply it only once per week until your skin adjusts. Then gradually increase how often you use it until you reach two times per week as needed.
Moisturize Morning and Night
If your skin feels dry and tight after delivery, try moisturizing with a non-irritating cream or lotion. Look for a formula that contains hyaluronic acid, which draws moisture into your skin, or ceramides, which help repair the barrier between your skin cells and the environment. Using products with shea butter and/or cocoa butter can be helpful in hydrating parched, over-taxed skin, especially on the postpartum belly.
Likewise, look to avoid using chemical-based sunscreens, or skin moisturizers with Alpha Hydroxy Acids (AHAs), Beta Hydroxy Acids (BHAs), parabens and phthalates to avoid contaminating breastmilk for baby.
Don't Neglect Your Neck and Chest
Postpartum hormones can cause drooping in these areas, so be sure to apply moisturizer there, too, especially if you're breastfeeding as feeding can lead to an increase in dry skin.
Remember your hands and feet, too! Dampen a washcloth with warm water, wring it out well, then massage onto hands and feet with circular motions, this not only will help soothe stress and feel great, it also helps stimulate circulation in these areas, delivering blood flow where it's needed.
Use a Facial Mask Weekly
After pregnancy, your skin may be easily irritated, use a facial mask to exfoliate and hydrate your skin and help remove dead skin cells, ultimately making the process of healing sensitive skin faster. Additionally, be sure to use oil-free cosmetics and use humidifiers to add additional support for dry and oily skin.
Drink Plenty of Water Every Day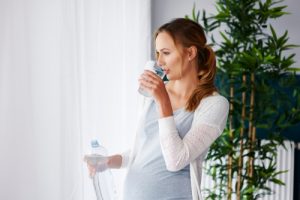 Drinking enough water can help you fight common issues like dehydration and constipation, which both affect the quality of your skin. In addition, drinking more water will help you feel better overall, and will improve how your skin looks and feels.
Avoid Tight Clothing Around Your Abdomen
Many women gain weight in their abdomen during pregnancy due to the growing baby. After birth, it's normal for this area to be swollen or even feel bruised as a result of the physical changes that occurred during pregnancy. Thus, to help avoid feeling unnecessary discomfort in this area, especially if a C-section was had, it's important not to wear anything too tight around this area for several weeks after birth as this could cause even more swelling or bruising than already exists there.
Let Your Hair Down
After pregnancy and delivery, disrupted hormone balance can take an enormous toll on your skin and your scalp is no exception.
Hair tends to get neglected during the first few weeks after delivery because a lack of priority or desire to wash or style it. But taking some time at least every other day to wash your scalp and hair, brush out tangles, and style your hair, even if only in a simple ponytail, can make all the difference in maintaining scalp health and avoiding an itchy head as well as how you feel about yourself.
Get Plenty of Sleep
Easier said than done with a new baby to feed and take care of, but your body needs all the rest it can get after giving birth. If you're breastfeeding, finding time to sleep can be a challenge, try keeping your newborn close by in a bassinet or crib next to your bed so that when baby slips into a solid rest, you have less distance to travel when the baby wakes up hungry during the night.
Take Your Vitamins
Sure, prenatal vitamins are important but postpartum vitamins should not be overlooked either. In addition to a balanced diet, after childbirth is the perfect time to reevaluate your supplemental and nutritional needs as a new mom. Some nutrients found to be beneficial in postpartum recovery are omegas, zinc, and calcium. In addition, biotin, vitamin A, B12 and folic acid are all beneficial to nourish and support hair, nails and skin postpartum.
In addition to helping new mothers discover, or rediscover, their natural beauty, maintaining skin health can help improve overall well-being so you can devote your time most effectively to your new baby and recovering from pregnancy.

Beauty

Everyday You

Postpartum Basics

Work, Life, Baby, Balance