Family planning during postpartum recovery is strongly influenced by a woman's culture, her physiology, her prior pregnancy experience and her emotional and psychological well-being.
Postpartum sexual adjustment can be difficult to discuss, but sexual concerns are common and most postpartum women have questions. It is important to give the body time to heal following the birthing process, as often there is perineal healing needed prior to resuming intercourse. Once intercourse has resumed, the likelihood of getting pregnant again right away has many factors that come into play.
Breastfeeding and Family Planning
Breastfeeding helps to determine how soon a woman can get pregnant after having a baby. Breastfeeding and the hormones that produce milk can suppress ovulation from returning until the breastfeeding period is over.
If a woman is not breastfeeding, ovulation typically does not return for at least six weeks postpartum. One study published in the Journal of Obstetrics and Gynecology found that on average ovulation returns on the 74th day of the postpartum period for women who are not lactating.
Breastfeeding can serve as birth control to a certain degree. Nursing suppresses fertility, and may be the most appealing method of birth control for postpartum women is their menstrual cycle has yet to return. If this is the case, breastfeeding can serve as a birth control method that is more than 98 percent effective. It is important to remember its limitations, however, as a woman has to breastfeed exclusively to avoid ovulation. Feedings during the day should be at least every four hours, and during the night they should be at least every six hours. Using breastfeeding as a birth control method is a short-term option. Once you begin to nurse less often, it is not as effective. Also, as soon as your menstrual period arrives, the protection period is over and you could get pregnant.
Returning to Birth Control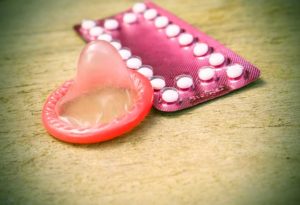 New moms are often tired, may experience some pain or discomfort, and don't feel at the top of their sexual game. This may lead them to not consider their birth control options right after having a baby. However, it is important to remember that this won't last forever. It may actually last a shorter period of time than one expects because a woman may quickly be ready to reconnect with her partner. The return of regular ovulation is different for each woman and may occur as early as three to four weeks after delivery, meaning you will want to be protected and prepared in advance.
It helps to know how fast you want your family to grow. Once you know your family's goals, deciding which birth control method is most appropriate for you will likely be easy.
It is important to remember that what was working for you prior to having a baby may not still be the best option for your lifestyle. For example, while it may not be difficult to remember to take a hormonal birth control pill every day while you are also trying to care for an infant, if you are breastfeeding, it may not be the best option. Hormonal birth control pills should be avoided if breastfeeding is occurring, especially if the contraception is one that has estrogen in it, this is because that hormone, as well as others, can be passed on to the infant through breast milk.
It is recommended to initiate contraception after giving birth in a timely fashion. Some birth control methods take several weeks to become effective, so setting yourself up for the birth control to be effective before resuming intercourse is important. If you are not planning to have a second baby immediately postpartum, it is a good idea to use a backup method of birth control until you are sure that your method of choice is effective. Non-hormonal approaches should be explored ahead of time so the right family planning techniques are in place and ready when the time comes to resume intimacy.

Postpartum Basics

Work, Life, Baby, Balance