Of course, you want to look your best at all times, including during pregnancy. Hair care can be challenging when you're pregnant, but you can still style and color with precautions.
Pregnancy Hair Care Basics
Just as with anything else during your pregnancy, there are things of which you should be wary when it comes to your beauty routine. However, you should be able to use your regular shampoo, conditioner, gel, mousse, hairspray, blow dryer and curling or flat iron while you're pregnant. The only exception is prescription dandruff shampoo if you use one. In that case, you should speak with your doctor to discuss this, as certain medicated shampoos are not considered safe during pregnancy.
In addition, when you're pregnant, you might become overly sensitive to the scent of certain hair products or find it objectionable. You might even want to switch to a different product that has no fragrance during your pregnancy.
Coloring Your Hair During Pregnancy
If you dye your hair regularly, you may have to change your routine while you're carrying a baby. Certain chemicals in hair dyes can become an issue during pregnancy and have negative effects on the developing fetus. Although there are many different types of chemicals, it's not always known which ones may be toxic to an unborn baby. It's better to be safe, rather than sorry, and consider some alternative options if you want to color your hair during your pregnancy. Henna, in particular, is a good option that is all natural and contains no harmful chemicals.
Hair Problem Treatments
Because you will naturally go through many hormonal changes during your pregnancy, your hair is going to go through some ups and downs. There are certain natural methods you can use for some of the most common hair problems: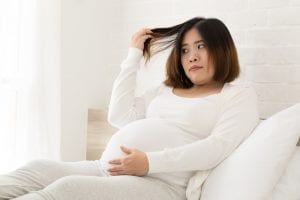 Dry Hair: To solve the problem of dry hair, you can rinse your hair with two or three drops of rose hip oil. Massage it generously into your scalp down to the ends of your hair and rinse well.
Dull Hair: Using lemon can restore dull hair to a healthier, shinier and more supple condition. Apply lemon juice to your hair after shampooing and let it sit for 10 minutes before rinsing.
Frizz: If your hair gets frizzy, you can tame it by using fresh avocado in damp hair. If you mix it with some lemon juice and olive oil, you have a perfect hair cure. Let it sit for 15 to 20 minutes and then rinse.
Oily Hair: To combat the problem of oily hair, rinse with apple cider vinegar after shampooing.
Other Things to Avoid
If you use certain types of hair treatments in your regular hair care routine, you have to be careful during your pregnancy. For example, Brazilian hair treatments, also known as keratin hair treatments or Brazilian blowouts, should be avoided because they contain formaldehyde, which can be absorbed into the body through the skin or through inhalation. Long-term exposure to this chemical can increase the risk of cancer, so it's not worth the risk to your unborn baby.
Things to Consider
Always read the labels of all beauty products while pregnant, whether they're for your hair or anything else. You want to ensure that there are no harmful ingredients, so check for warnings against use during pregnancy.
Consider getting a deep-conditioning, hot-oil treatment for your hair. Do this only once a month if your hair is dry. It will keep your locks healthier and shinier overall.
You can also get a great hair massage, as your hair is likely more neglected than usual during pregnancy. A hair massage is especially helpful in case of hair loss. If going this route try to aim for an oil massage three or four times per week.
Caring for your hair is not impossible during your pregnancy. You just have to be more careful of certain products and practices, but your hair can look beautiful!

Beauty

Everyday You