All expectant moms hope their babies grow up to be smart and skillful. Studies have shown that prenatal B12 levels aid in children's math and speech skills.
On the flip side, it was found that pregnant women who had low levels of vitamin B12 ran a greater risk of their children's having issues with speech and mathematics. This shows that sufficient prenatal B12 levels could help children excel in those areas later on.
What Did the Study Show?
The study, known as Children of the 90s, was performed at the University of Bristol in the United Kingdom. Around 14,000 pregnant women were studied, and their information was collected over a period. The women's children were followed and tested at different points in their lives. The children's data was put into two groups, based on their mothers' levels of B12 vitamin intake during pregnancy.
One data group consisted of children whose mothers had high prenatal B12 levels, and the other group consisted of children whose mothers had low levels of B12 during their pregnancies. The results showed that the children whose mothers had high levels of B12 had higher intelligence and did better in school during their childhoods.
What Do Low Prenatal B12 Levels Show in Children?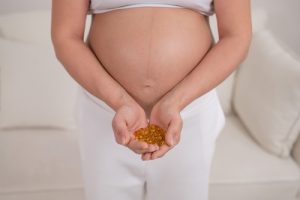 In all, 29 test results were examined. Out of those, 26 could be linked to the mothers' prenatal intake of vitamin B12. Additionally, there was no difference in the women's socioeconomic status among those whose vitamin B12 levels were low. Their children proved to have more of a risk of poor vocabulary by age two and speech issues by age six. These children's math skills were also identified as poor when compared to their peers at ages eight to eleven.
At the end of the study, the lead researcher, Golding, stated that her group concluded that pregnant women who had low prenatal B12 levels ran a much higher risk of having children who would encounter language and math development issues. Professor Golding added that further studies needed to be done to confirm the findings. However, she stressed that pregnant women should consume a diet rich in vitamin B12 and that pregnant women who are vegetarian or vegan should supplement their diets to ensure adequate levels.
The Importance of B Vitamins During Pregnancy
All pregnant women should consume the right level of vitamins, minerals and nutrients. While myriad nutrients can be found in prenatal vitamins, the importance of B vitamins cannot be under-stressed. In addition to the right prenatal B12 levels, women need other B vitamins as well.
If you're pregnant, you should aim to incorporate the following in your diet:
Vitamin B1, thiamine: Thiamine can help convert carbohydrates into energy. It also helps your baby's brain to develop. You can get B1 in cereals, dried beans, fortified breads, peas and lean pork.
Vitamin B2, riboflavin: Riboflavin can aid in your baby's bone, nerve and muscle growth. It can also help prevent preeclampsia during your pregnancy and is good for promoting healthy vision and skin.
Vitamin B6, pyridoxine: This vitamin is essential for your baby's developing brain and nervous system. You can get B6 from lean meat, fish and nuts.
Vitamin B12: It's already been shown in studies that high B12 levels are good for aiding in the development of math and speech skills for your baby. However, vitamin B12 is also good for preventing spina bifida and other birth defects. Pregnant women should take at least 2.5 micrograms of B12 each day with food.
As you can see, all B vitamins are essential to a healthy pregnancy and a healthy baby. The appropriate prenatal B12 levels can give your baby a good head start toward having good speech and mathematical abilities.

Prenatal Health

Prenatal Vitamins