The birth is approaching quickly, and soon you'll be able to take your baby into your arms for the first time. Proper preparation in the last weeks before childbirth will mean you're ready to go when the big day arrives. This especially includes packing your hospital bag for the upcoming hospitalization. Since babies often come a little early, it's best to already prepare your bag around the 30th week of pregnancy to avoid unnecessary stress.
What should you pack in your hospital bag?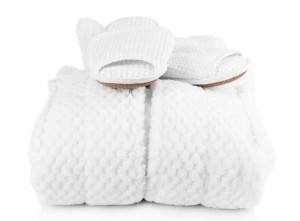 During labor, many pregnant women like to pace back and forth to help relieve pain, so comfortable slippers are a must-have.
These don't just help with cold feet—thick socks can influence the duration of the birth because cold feet can slow down contractions and prolong labor.
Long hair can feel bothersome during labor, plus putting your hair up will help you sweat less.
To make you feel more comfortable during your hospital stay.
Such as your toothbrush, toothpaste, shower gel, shampoo, deodorant and moisturizer.
Especially during the exhausting second phase of labor, lip balm can prevent your lips from drying out.
Glasses instead of contact lenses
Contact lenses can slip out of place during labor and feel uncomfortable when it's time to push, which is why glasses are recommended instead.
Two or three large t-shirts or other shirts
For during and after labor. Loose-fitting shirts that can easily be unbuttoned work best for breastfeeding.
One or two loose-fitting pairs of pants
Several pairs of cotton underwear (these should be able to withstand the hot wash cycle)
While hospitals do provide underwear, many women prefer to bring their own.
Two to three nursing bras and nursing pads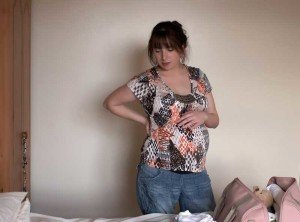 These should be 1-2 cup sizes larger than your regular size—after the birth, milk will begin to release and your breasts will swell.
Snacks that give you energy
These include dextrose tablets (good to prevent dry mouth), bananas and granola bars. Labor can often take a long time, and small snacks will help give you the energy you need. Also make sure to include your favorite drinks (tea, water and juice are best) as well as a few sweets.
So your partner or other support person can massage you while you're having contractions.
After all, you'll want to record what's likely the most important event in your life! Your child will also appreciate having the photos and video footage later in life.
iPod, tablet, books and magazines
Listening to your favorite music will help you relax, and reading passes the time.
Outfit for the drive home
High-absorbency pads (not tampons!)
Important documents
These include the hospital admission slip, your maternity log, insurance cards as well as your ID and birth certificate or marriage certificate if you're married.
Things you'll need for the baby
Onesie (long sleeve or short sleeve, depending on the season)
Two to three shirts and pairs of pants
Blanket
Baby socks or shoes
A newborn hat is a must. During summer, a cotton hat is warm enough, but during winter a thicker wool hat is recommended.
Jacket and perhaps a snowsuit during winter
Diapers
Car seat for the drive home
Bottles and formula if you're not breastfeeding
Burp cloths
Things your partner or other support person will need
Comfortable clothes and shoes
(This depends on how long your support person will stay at the hospital)
Toiletries
Snacks and drinks for energy
Swimsuit if you'd like to be accompanied in the bath
Possibly small bills for the vending machine and cafeteria
Optional items you may want with you
Pillow for bed, birthing or nursing
Stuffed animal for baby
Wash cloths and towel to help you clean up more comfortably when you're feeling up to it
Baby wipes
Massage oils or additional birthing aids such as birthing ball, acupressure comb, hot and cold packs, etc. 
Book, iPad, iPod, toys, coloring books, etc (this is especially helpful if you have older kids who will be staying with you to meet their new sibling)
Sugar-free hard candy or lozenges to keep your mouth moist during labor
postpartum recovery essentials such as homemade padsicles, perineal spray, etc.

Preparing at Home

Preparing for Baby