It's no secret that parents try to do whatever they can to ensure the safety of their children. As loving parents, we run background checks on caregivers, research safety ratings and go to extremes when babyproofing our homes. However, did you know a very real threat to the safety of your family may be lying right by your newborn's bed? Designed to help you keep an eye on your little ones, baby monitors are dissolving the privacy of families around the world. If you own a wireless baby monitor, which most of us do nowadays, hackers lying in wait in the shadows may very well be listening and watching to your family's most intimate moments. Worst of all, these predators can even verbally harass and terrorize your family right in your own home.
A Very Real Threat
In 2013, ABC News reported a story involving a Houston family, the Gilberts, who had their baby monitor hacked. According to dad Marc Gilbert, he was in the kitchen when he heard a man harassing his deaf two-year-old daughter and shouting obscenities at her through the toddler's baby monitor. Upon entering the room, the hacker attacker turned his attention to him and his wife and peppered them with a barrage of nasty comments. The Gilbert's are far from alone, as more and more families from across the nation and around the world are reporting similar incidents. At the heart of the problem, explains ZDNET, are Wi-Fi-based webcam baby monitors, which are sometimes equipped with default usernames and passwords. Thanks to the internet, anyone can build a scanner for any device on the camera's default port and try to access the device with the default credentials through the camera's client software. It may sound difficult to everyday people, but with more and more of these incidents occurring each day, it's apparently much easier than it seems.
Warnings and Points of Vulnerability: Proceed with Caution
Cyber security experts have warned for quite some time that parents, and everyone for that matter, may be leaving themselves open for these kinds of malicious attacks and perhaps worse. They warn that any device connected to the internet, especially baby monitor webcams, may provide a vulnerable point of attack. Predators are not only lurking behind baby monitors and using them to harass children and families, but some may hold the hacking knowledge to use them as an entry point to drain your bank accounts or steal your identity as well. Of course, there's also the fear of virtual threats progressing into actual physical harm. Can you imagine the potential consequences of having someone nearby being able to listen in on your family's conversations each and every day? From financial details to alarm codes, you would leak all kinds of information not meant for others to hear. A potential kidnapper or thief would also certainly benefit from knowing your daily routine.
What You Can Do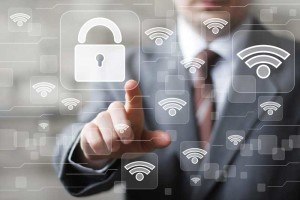 Before you go tossing out your wireless baby monitors completely, you can first safeguard your home network by installing a solid firewall. Be sure to create new and secure passwords for your Wi-Fi router, baby monitor webcam and other internet access points. It's important to create separate passwords for your wireless baby monitor and Wi-Fi router. You should also change them frequently for an added layer of security. Lastly, as security updates are becoming increasingly common, they should be checked often and these updates should be installed when available.
If you really want to take your protection up a notch, you can also change your baby monitor's default security settings to make it much more difficult to access and likely too much trouble for any hacker to bother with. To go all out, the default port can be changed as well. Default passwords remain a serious problem and point of attack for hackers like the one that harassed the Gilberts. While server software and other professional-based products often require or urge users to create their own credentials, makers of consumer products like baby monitors are much less likely to do so for fear of making their products too difficult or bothersome for consumers to use.
Have you ever viewed baby monitors as potential threats to you and your loved ones? If not, don't feel too bad as millions of Americans are just now catching on to this growing problem. Fortunately, with the tips provided above and a little due diligence as far as anything concerning Wi-Fi or the internet, you'll be able to keep your family safe and secure from malicious hackers in this brave new world of virtual crime.

Preparing at Home

Preparing for Baby