Guest author: Leah Martin
Have you been busy scrubbing the inside of your pantry or washing the walls of your garden shed? If you answered "Yes!" then you're probably pregnant… or a much better housekeeper than I am!
You don't want to waste all of your incredible pregnancy nesting energy on something like vacuuming out dresser drawers. If you're anything like me, pregnancy is the only time you think of carrying out such odd jobs. It may be worthwhile to do these jobs since you may not ever consider them again, but you don't want every day to be filled with tidying things that don't amount to much help after baby arrives. The postpartum version of you will be mad when she realizes what went down! So put away your magic eraser and listen up!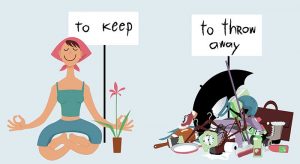 In this post I want to help you focus that incredible pregnancy energy (albeit rare at times) on decluttering and organizing your home before baby arrives. This article will list the decluttering jobs that will benefit you most during postpartum life with a newborn baby and make it easy for you to check those tasks on your to-do list.
Here are 30 days' worth of nesting challenges that will help you get your home fresh, neat and perfectly ready for a new baby
Day 1. Set your priorities.
Sit down with a journal or nice piece of stationery in hand. You must begin by deciding what's important and writing it down.
When you try to make everything important—working out, quality time with friends, cooking meals at home, saving money, craft projects, a nice wardrobe, electronics—you instantly make everything unimportant. You may begin to feel stressed and overwhelmed because you feel like you can't keep up with expectations. Begin by listing your top three priorities and let those priorities guide your decision-making process. If "exercise" didn't make your top three, then sell the work out clutter you have accumulated around your home.
There may come a day three months from now or even a year from now when you have mastered your top three priorities and feel like you can add in another—like making more time to exercise. If that day comes, remember, you don't have to own any fancy equipment to get the results you want (no matter what new priority you may want to take on). Use objects you already have at home, watch free YouTube videos or go for a brisk walk every day. Once you've made your new priority a habit by committing time to it daily, buy yourself a gym membership as a way to get out of the house and have some Mama time.
Bathroom
2. Collect all of the makeup around your home.
Bring it all to your bed and sit and sort through the things you actually use and love most. After your baby comes, you will want to be able to quickly reach for your favorites when you have a minute to get ready. Pass on any unopened makeup to a relative or friend.
3. Sort through your collection of oral hygiene items.
You only need one toothbrush, one tube of toothpaste, one pack of floss and some mouth wash. Any extras can be donated to a homeless shelter.
4. Wipe down the mirror.
Scrub each bathroom sink, toilet and tub. A shower is going to feel like a day at the spa after some time with your newborn. Get everything nice and clean now.
5. Sort through the items in your medicine cabinet.
Remove any out-of-date medicines or items that you no longer need. Don't save anything for "some day" unless you know you will use it.
Bedroom
6. Toss your old, worn out bras.
Let's just face it, boobs will never be the same after pregnancy.
7. Wash all of the linens in your house.
Towels, bed sheets, throws, etc. Once they are clean, decide what to keep and what to donate. Replace any linens that are worn out.
8. Junk on the nightstand.
Move it to its true home in your house or if it must stay on the nightstand organize the items neatly in a small bin. Sometimes simply collecting the items and storing them in a bin reduces the look of chaos satisfactorily.
9. You've been wearing maternity clothes for months.
Now is a perfect time to empty any items from your regular clothes closet that you aren't super excited to wear postpartum. If you aren't thrilled to wear them, replace them later on as your body changes with something you do love!
Kitchen
10. Clean out and scrub your fridge.
Wash all your containers for leftovers.
11. Clean out any out of date items out of your freezer.
Out with the old, and in with the new! Make room in your fridge and freezer for the meals you'll be making!
12. Empty the area under your kitchen sink.
This is one of those little things that will make a big difference. Toss or pass on anything you aren't using and arrange what's left neatly in a tote.
13. Declutter your coffee cups.
Afterwards, set up a coffee bar for your new life with a newborn by storing all of your coffee accessories together. Clean your oven. Wipe out your microwave and sink. Wipe down any other appliances like your coffee maker, mixer or dishwasher.
14. Kitchen drawers.
Retrieve a large tote and begin early in the morning. Empty everything from your kitchen drawers. Only put items you love and use back into the drawers. If your drawers begin to look too full, reevaluate. When you have everything exactly as you'd like it, consider purchasing a drawer organizer to keep things from moving when the drawer opens and shuts. Anything left in the tote can be donated or sold.
15. Purge extra kitchen storage containers.
Toss out any storage containers that have lost their lid or aren't being used. Keep only the best ones and stack them neatly in a cabinet.
16. Reduce your number of dishes.
Less dishes total means less to sit dirty in the sink.
17. Clear clutter off your refrigerator.
Did you know that the amount of clutter—like magnets—on your fridge is strongly linked to the amount of stress you feel at home?
18. Sort through the food in your pantry.
Create a menu around what food you need to use up quickly. Freezer meals will be your BFF after your baby arrives.
Office
19. Paperwork.
It sucks, but you need to gather any and all paperwork in your home, bring it to a central location like the kitchen table and decide what to keep and what to shred. My advice? Toss any and all appliance manuals unless it's something you can't Google. Organize the paperwork that's left into folders by category then ask your partner to sort the paperwork that belongs to them. While you're on the topic of paperwork, it's a good time to consider writing a will.
20. Unfinished projects.
You're about to begin the amazing new project of raising a baby! Purge anything you aren't actively working on or haven't finished yet. Maybe a friend would be happy to finish them instead?
21. Old magazines and books you haven't reread yet.
If you haven't read them by now, you aren't going to.
22. Dedicate a small area of your home to making a family command center
Adding a new member to your family will certainly create a little chaos. A family command center makes it simple to see what the plans are for the week, the menu, and quickly access any important papers. These are especially great as a system for collecting mail which is one of the fastest mess makers in the home.
Electronics
23. Declutter your movie collection.
Donate anything you haven't or won't watch again. If you choose to keep some DVDs, remove them from their case and store them in a DVD folder to save space and make finding the right one simple. If you still have VHS tapes, but no VCR, donate them all.
24. Backup then delete pictures on your phone.
You're about to fill it up quick with pictures of your new squish!
Miscellaneous
25. Start off on the right foot by emptying your handbag.
Sort through everything inside and trash any store loyalty cards not being used. Organize the cards in your wallet and check the balance on any gift cards. When you finish it should be simple to reach in and quickly grab what you need.
26. Coat closet.
Evaluate how many coats you actually need for your climate. I suggest one winter coat, a spring cardigan in a neutral color and 2-3 lightweight jackets for layering such as a blue jean, leather or peacoat. If you downsize the number of coats you own, you can move them into your bedroom closet and your coat closet could become something else like a craft storage space or a closet office.
27. Sell any unused, extra or broken furniture.
Coffee tables are a nuisance with a toddler around anyway. If it's still stored in the shed or garage it can go. No furniture projects allowed unless it's your day job. If you decide later you would like to take on a project, buy a $25 dresser on Craigslist to remake.
28. Pet supplies.
Do you really want Fido to have 10 squeaky toys when your new baby is trying to nap?
29. Spend one whole day with a bucket of warm water and a splash of apple cider vinegar in it.
Wipe down the walls and doors in your home. Focus especially on the lowest parts. You probably won't get a chance to do this again before your baby is crawling.
30. Shampoo your carpets and deep clean your rugs.
Especially if you have pets!
Pregnancy brain had its grip on me hardcore especially when I was expecting baby number two with a toddler already in tow. You don't have to worry you'll forget what you read here today because we have a FREE downloadable checklist to keep you up to date on your to-do list and make sure you stay accountable for what you have left to do before your baby arrives.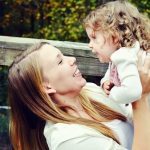 Leah Martin strives to live a Minimalist lifestyle and created her site, MamaBear Martin: Minimalism + Motherhood to provide other moms with the resources to do so as well.

Preparing at Home

Preparing for Baby