Your role as a new parent is to take care of your child. Finding the right pediatrician can help with that endeavor.
Becoming a new parent can be both exciting and stressful. On the one hand, it's exciting to welcome a new life into this world and teach them how to be a functioning member of society. On the other, it's stressful because being a parent is full of unknowns and challenges.
One of your roles as a parent will be to take care of your child. This occurs in many different ways, including keeping them warm, making sure they have the proper nutrition and taking them to the pediatrician. With so many different options to choose from, it can be confusing to know which doctor is the right one for you and your child. Below are some tips to help guide you through this process.
How to Find the Right Pediatrician
When it comes to finding your child a pediatrician, it's important to realize that your search will begin before the child is born. The pediatrician should be present or at least a phone call away should an issue arise during the birthing process. If you don't already have a pediatrician in place, you'll have to take whomever the hospital provides.
Step 1: Create a List
The first step in finding a pediatrician is knowing who is available. To find out which doctors are available in your area, you can do a search online. You might also consider talking to family and friends to see whom they go to and whom they recommend.
Step 2: Research the Candidates
Once you have some potential candidates, it's time to do some research on them. You'll want to make sure they are board certified and their licenses are currently up to date. You can check out the American Board of Pediatrics to find all of the information you need on potential providers for your child's health.
During this time, you'll also want to read any reviews that have been posted online. This will give you a deeper look into what real people think about the doctor and if they would recommend them to others. You might also want or need to call your insurance company to figure out which providers they consider in-network. This is another way to find pediatricians in your area that have the ability to care for your child.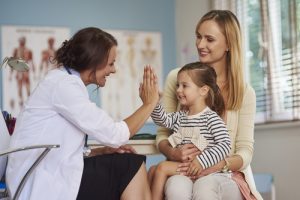 Step 3: Find a Doctor Who Has a Similar Parenting Style
Many parents turn to their pediatrician for advice when it comes to raising their kids. Thus, you want to find someone who shares a similar parenting style to your own. This can help make the relationship between you and the doctor more comfortable and enjoyable. You may also be more willing to listen to their advice so that your child can be as healthy as possible.
Step 4: Narrow Down Your List
As you gather more information about potential pediatricians, you should be crossing names off the list that you know won't be a good match. Once you get your list down to a few names, you'll then want to call their offices to set up introductory appointments.
Step 5: Interview the Potential Candidates
Talking to potential candidates is the best way to find the doctor that will work best for you and your child. As long as you make an appointment, most pediatricians are more than happy to meet with you and answer any questions you might have. They know how scary, stressful and rewarding being a parent can be, and they want to support you and your child in every way possible.
Step 6: Make Your Decision
After meeting the candidates in person, you should have a good idea which doctor is the best option for you and your family. While you don't necessarily need to let the pediatrician know you have selected them, this could be helpful. It gives them a heads-up that they will soon be expecting a new patient.
Take Your Time
Finding the right pediatrician isn't a decision you should make on a whim. You need to take your time and consider the potential needs of your child. Not only should the doctor provide the right care, but you should also feel comfortable partnering with them to ensure your child is as healthy as possible.

Baby's First Year

Postpartum Basics