With the excitement of a newborn coming into your life, there are many decisions to consider. Some of them are fun: What color should we paint the nursery? Some of them are practical: Co-sleeping or a crib? Yet, once you make the decision between the bottle or breastfeeding, finding the perfect nursing bra is both a practical and fun decision to be made.
When purchasing a nursing bra, there are a few things to consider. However, your first decision should be when to shop for your nursing bra. Although it is tempting to get it done and buy your bra before your delightful angel makes their appearance, in reality, you should wait until after your delivery. Your body will be going through many changes even within the first week or two postpartum. Thus, the perfect bra that fit you during pregnancy may very well be useless post pregnancy.
Ease of Use (How Does This Thing Work?)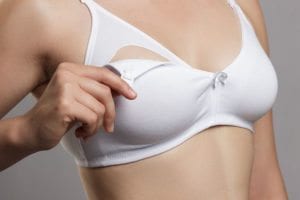 As for the actual nursing bra, the most important factor to new and experienced moms alike is the ease of use. If you are out in public and your beautiful new tyrant begins to urgently beg for food, the last thing you want to worry about is fiddling with your nursing bra. One snap and a quick latch are what you are looking for. Therefore, finding a bra that has a strong closure and can be handled with one hand is not only convenient but necessary.
Support (Nursing Bra or Over-the-Shoulder-Boulder-Holder?)
Another important consideration is support. At the beginning of your breastfeeding journey, the size of your breasts will fluctuate drastically from minute to minute. You will need a bra that supports your new, wonderful cup size without digging into the sides of your torso. Nursing bras that put pressure on your torso can cause milk ducts to get plugged, which can lead to mastitis. Mastitis is not only uncomfortable but could derail your entire breastfeeding experience and discourage you from continuing with this worthwhile choice you have already made.[wdca_ad id="30443″ ]
Construction (I Lycra it a Lot)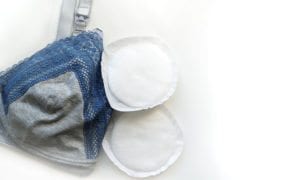 When shopping for a nursing bra, feel the material. A breathable material is mandatory, especially if you have a summer baby. Even in cooler seasons, you will have your clothes, a warm baby and, more than likely, your baby's blanket on top of you to be protected from unpleasant looks. This is a recipe for a sweaty chest. Having a material that will allow your skin to dry after your marathon nursing session has the added benefit of keeping your nursing bras smelling fresh.
Cost vs. Beauty (I AM Worth It)
Although cost is important, it is actually lower on the list of importance. There is a reason some nursing bras cost more. A purely functional bra may be inexpensive, but after all the sleepless nights, you need to be reminded that you are a woman and not just a milk-making machine. A beautiful bra that is both splendidly constructed and alluring in design can help remind you that you are a beautiful person in your own right.
A nursing bra wardrobe doesn't need to break the bank, either. You should be able to find a bra that fits in your price range. Nordstrom has bras as inexpensive as $35 up to $98, while Target boasts most of their nursing bras under the $20 range. You should have a minimum of three to four bras ranging from inexpensive, purely functional pieces to at least one piece for that night out.
Be it your first, second, third or more child, finding the perfect nursing bra should be at the top of your priority when choosing to breastfeed your baby.

Breastfeeding

Postpartum Basics


Shopping Lists