Decorating and preparing for the holiday season is half of the fun. This is especially the case if you have a baby in the house that will be celebrating their first Christmas!
When having an infant around, there are some things that you should be aware of to help keep them safe this season. We have put together some baby- safe tree trimming and holiday safety tips to help!
Pick the Right Tree
When it comes to picking out your Christmas tree, there are a few safety precautions that you should keep in mind with a baby around:
Artificial Tree – If your tree is artificial, make sure that it is labeled "fire resistant".
Live Tree – Choose a tree with green needles that won't fall out easily. Try to avoid any dried out trees as they are more flammable.
Avoid Heat Sources – Make sure to set your tree up away from any heat sources such as a fireplace or a space heater.
Placement – Try and find a place in your home that is out of the way of where your baby plays. This will help to avoid them tripping over the tree or decorations. You may even want to consider putting up a safety gate around it.
Baby- Safe Tree Trimmings
Decorating the tree may be one of your favorite things about Christmas. It is important to keep in mind a few safety tips to help keep baby safe when it comes to decorations:
Avoid Open Flames – Never decorate your tree with lit candles.
Think Accidents – When you have a baby around, they love to explore new things and accidents can happen. It is best to avoid hanging up any precious ornaments that you would not want to see broken for now.
The Right Kind of Hook – Use non-mental hooks and shatterproof ornaments. Check each ornament and make sure that they are too big to swallow for a baby.
Avoid Choking Hazards – Skip popcorn strings, candy canes, garlands, and tinsel this year as they can be choking hazards.
Think Electric
To help avoid any decorative electric lights that may burn your baby's fingers or start a fire here is what you should look out for:
Check Them Beforehand – Do a thorough check for broken sockets, frayed wires, and loose connections. If your lights are more than three years old it might be time to get some new ones.
Never Leave Baby Alone – Never leave your baby alone with or let them play with lights or cords.
Avoid Metallic Trees – Never use electric lights on a metallic tree. This could conduct an electric charge if the lights are faulty.
Switch to LED – LED lights won't burn your baby's fingers if they do touch them by chance.
Presents Under the Tree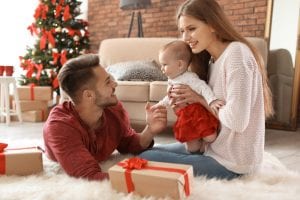 Here are a few tips to help keep your beautifully wrapped surprises from being a safety risk to your baby when wrapping and unwrapping:
Avoid Long Ribbons – Any ribbon or string that is longer than 12 inches should not be used.
Avoid Choking Hazards – Hold off on cute buttons, tiny gift decorations, and twist ties until your child is older, as these are more choking hazards.
Clear as You Unwrap – As you unwrap presents, clear away the plastic packaging, fasteners, styrofoam, or anything that could cut your baby immediately.
Other Holiday Tips for New Parents
As we know the holiday season is much more than just decorating a Christmas tree and wrapping presents. Here are a few final tips to help ensure that you have a safe and enjoyable holiday season:
Holiday Plants – When decorating your home with live plants there are a few things that you should consider. If your child is not old enough to know better than to avoid putting everything in their mouths you may want to avoid the following plants:

Holly berries can cause cramps, diarrhea, and vomiting. The sharp leaves attached to the berries could also cut your baby's mouth.
Mistletoe can cause cramps, diarrhea, and vomiting.
Poinsettias are poisonous for pets. They can also cause cramps, diarrhea, and vomiting.

Be Candle Vigilant – While candles are beautiful, it is important to be extra cautious when using them around little ones.

Make sure that they are nowhere near where your baby can reach.
Use broad-based candles so that they are harder to tip over.
Make sure that all lighters or matches are kept out of reach and at a safe distance away from baby.
Keep all candles away from holiday decorations and curtains.
Never leave a child alone in a room with a candle lit, even if it is only for a minute.
Make sure to blow out all the candles before you go to sleep or leave your home.

Party Etiquette – Holiday parties are one of the many exciting things that come with the season.

Alcoholic Drinks- If you choose to enjoy some cocktails this holiday season, make sure that they are out of reach from your little one. If you are using a punch bowl, make sure that little ones that wouldn't know any better do not have access.
Think Choking Hazards – Set up a separate kid-safe menu for any little ones that will be in your home. This will help with confusion. Cut up their snacks or food into small quarter inch cubes.
Be Careful of Glassware – While bringing out the fine china is aesthetically appealing, you may want to wait until your baby is old enough to know to keep away to avoid any accidents.
Happy Holiday Season
We hope that you have a wonderful holiday season with your family ! Don't forget to take the time to safety proof your home to ensure a safe holiday. If it is your little one's first Christmas, remember to enjoy and savor the memories.

Baby's First Year

Postpartum Basics