When a new baby arrives, you may realize that you want to start a new family ritual. Let's look at how and why you should introduce a fun, new holiday tradition this year.
What Principles do Family Traditions Reinforce?
Consistency
Creating a pleasant, unified family culture will help strengthen family bonds and reinforce the idea that your own family is something special. Going through your own, special ritual again and again reminds everyone that while you're doing something unique, perhaps even weird, the important part is that you're doing it together. When the same quirky family tradition recurs every year, it gives the children, no matter their age, a sense of consistency and something to look forward to.
Identity
One of the major points in favor of starting a family tradition, with your new baby and family members, is that it creates a strong sense of family identity. In turn, a sense of identity brings people closer to one another and strengthens emotional bonds like nothing else can.
When your family has its own special tradition, each sibling and relative will have a delightful, consistent event to look forward to and identify with. Young children especially love to stand out among their friends and strive to bring something unique to the table; imagine your child being able to tell his kindergarten classmates that his family dances in goofy socks to get Santa's attention every Christmas Eve!
Unity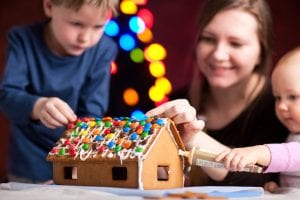 Above all else, a strong sense of identity and the comfort granted by consistency work together to achieve one goal for your family: unity. Every family could benefit from feeling closer to one another and becoming increasingly aligned in motives or beliefs. Introducing a holiday tradition is a way to make this process both fun and natural.
If you can introduce a new holiday tradition early on, your newest addition to the family will grow up alongside their siblings with a strong concept of how to relate to family members in a healthy, nurturing manner.
Give Everyone a Place to Feel Special
When there's a new addition to the family, it's more important than ever to make sure everyone feels included. Laying out a special, detailed role for each child in your family will help them feel important and give them a unique part of the family tradition to look forward to.
For example, if you have the kids pull snack names from a hat in a fun re-work of an Advent calendar, make sure that every child gets a turn—bonus points if you encourage sharing by having them pick snacks for one another instead of for themselves. You can pull a paper slip on behalf of the new baby and begin building bonds between the siblings early on.
The Takeaway
Family traditions do wonders to bring all members of the family together and set a lively tone during the holidays. Having your own family tradition keeps things fresh and prevents the holidays from becoming run-of-the-mill. After all, it's something that's special and reserved just for your own little unit. Building a strong family culture of boldness in personal identity, consistency and family unity is just what your family needs. Introduce a unique, new holiday tradition this year to your new bundle of joy, and to your family as a whole!


DIY Projects

Preparing at Home

Preparing for Baby