It's no wonder that with the increased hormones and stress that comes with pregnancy that arguments during pregnancy can frequently arise.
Pregnancy is often depicted as a happy time, full of romance and whimsy as couples pick out clothing for their future baby and giggle over baby names. However, honest parents will quickly admit that those nine months were full of ups and downs that frequently led to arguments. While you can expect for disagreements to pop up throughout the duration of your pregnancy, there are several that are common among most couples. Knowing about these issues that can arise will help you implement solutions that ensure harmony.
Dividing Up Household Chores
It's amazing how quickly household chores can add up when there is so much more on your to-do list. Pregnancy symptoms such as fatigue can also lead to new moms feeling overwhelmed by even simple things like folding laundry. Instead of letting chores become one of your biggest arguments during pregnancy, find ways to divvy them up.
If your budget has room for a housekeeper, then consider it as your easiest solution. If not, you can still take turns with chores or even turn them into a fun competition. See who can match the most sock pairs fastest, or play some music while one of you washes the dishes and the other puts them away. Working together fosters the team player attitudes both of you need for parenting.
Look into creating two lists of chores, one baby related and one everyday tasks from around the house and look into prioritizing what needs to get done immediately and what can wait. During this time, make an effort to ramp up the cute thank-yous and extra praise for your partner to help them feel appreciated.
Sex
Few people will admit it, but this is a very common issue during pregnancy. Whether it's a disconnect of not enough sex or the uncertainties of having it at all, the key to finding the underlying cause of the arguments is communication.
While it might just be hormones if mom-to-be is feeling a lack or surge in her sex drive, it is also normal for dads-to-be to worry about hurting the baby. Talking about the ways pregnancy changes your sex life is the first step toward finding a compromise, and further discussion can help calm concerns that sex is safe for the baby.
If a lack of sex is the problem due to an increased to-do list and the feeling of having no extra time, be sure to plan out a little intimacy time. Not only will it ensure physical intimacy is occurring, it will give you something to look forward to during the week.
For those who aren't quite in the mood jump in bed and dive right in with sex during pregnancy, try taking it slowly and just enjoying some foreplay. This can help each of you feel desired and may help override the lull in drive and build up the desire for physical intimacy. Regardless of the cause or your approach for solving this issue, remember communication is key. Make sure you are being honest with your partner and yourself about how you are feeling, what you want and if you have any concerns.
Differing Emotional Needs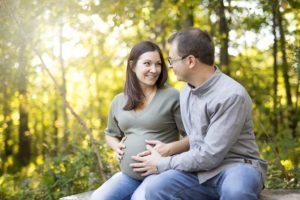 Fluctuating hormones can have expectant mothers craving more attention one moment and pushing their partners away the next. Naturally, this will lead to more arguing during pregnancy due to the possible hurt feelings that are involved. The secret to solving this issue, like most issues, is communication. If one partner needs to feel more physical and emotional connections, then it is important to ask. Often, it simply takes an extra compliment throughout the day or a longer hug when you get home from work to satisfy everyone's emotional needs.
Debating Parenting Styles
It's funny how you can argue about things that haven't happened yet, but new moms and dads can get into heated discussions regarding their future parenting tasks. When this happens, stop and ask yourself if the argument is pertinent now. Fighting about when your future daughter can start dating is silly when she hasn't entered the world yet. If there are serious issues to discuss now, then take time outs from the discussion and talk only when you are calm. Professional counseling may also be in order if you cannot find a resolution.
Figuring Out Finances
Money issues are common among all couples, yet this can turn into one of your biggest arguments during your pregnancy if you are not careful. Buying baby gear can severely impact your budget so it is important to sit down and plan it out before you start filling your shopping cart. If you're the partner that just can't resist that adorable designer outfit, then try to keep in mind that your baby won't care about labels. If you happen to be the thrifty one, then try to indulge your partner's occasional splurge. You can also both work together to find special deals that make things more affordable or turn a few do-it-yourself baby projects into fun bonding experiences.
As your pregnancy progresses, it becomes more important than ever to implement strategies that keep the romance in your relationship alive. When it is all said and done, the majority of arguments during pregnancy are easily mendable when both partners are willing to compromise. By choosing to work together to find solutions to your issues, you will be building bonds that make you stronger as a parenting team.

Relationships and Sex