A big topic in the news and on social media right now is breastfeeding. While it comes naturally to some mothers, others see it as a foreign concept and others wonder if it is the right choice for their new baby. While there are many benefits to breastfeeding, many women choose not to breastfeed because they are afraid that their new baby will not get the nutrients that he or she needs, the nutrients that are so critical for the development of both the mind and the body in the first year of life. Knowing what key nutrients are important for you and baby is half the battle.
Iron
First and foremost, on the list of vital nutrients for your growing bundle of breastfed joy is iron. Iron is important for normal cellular functioning, the growth of muscle and brain development as well as connective tissue and aids in the body's ability to absorb oxygen. Due to its role in oxygen absorption and cellular functioning, it is vital for the immune system. Iron, however, cannot be absorbed into the body without a vitamin C carrier, so along with iron, mothers need to make sure they have plenty of vitamin C. Luckily, nature has chosen to provide us with a variety of leafy green vegetables that are not only high in iron but in vitamin C as well. Aside from leafy greens, other good sources of iron include beans, legumes, nuts, lean meats, seafood and poultry.
Protein
Many of the same foods that can provide a mother and child with iron, can also give them protein, another important nutrient for a growing baby. Protein assists with muscle development and growth in the infant and helps with the mother's energy levels, as well as her post-partum healing. Since protein is a major component of hemoglobin, which helps to carry oxygen from the blood to the body, a protein deficiency can result in not only a loss of muscle mass but in problems with the respiratory, circulatory, and immune system as well.
Calcium and Vitamin D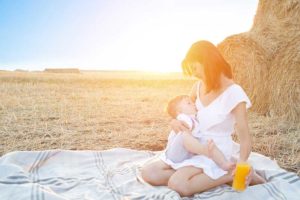 Most people know that calcium and vitamin D are needed for bone growth and development in infants and children and to help prevent bone density loss in adults. While this is a very important nutrient for breastfeeding mothers and babies, and dairy is a good source of calcium, it's important to remember that dairy is not necessarily the best source. It's also important to remember that calcium needs vitamin D—much like iron needs vitamin C—in order for the body to absorb it. Aside from milk and cheeses, calcium can be found in leafy green vegetables, tofu, broccoli and beans. As an added bonus, these foods also contain Vitamin K, another nutrient important for bone health.
Vitamin B-12
Aside from vitamin D, vitamin B-12 deficiency is one of the most common vitamin deficiencies, not just in breastfed babies and their mothers, but in people in general. B-12 is needed for red blood cell formation, neurological function and brain development as well as DNA synthesis. A deficiency in B-12 can lead to issues in brain development for babies and an increased risk of postpartum depression, memory and general mental health for mothers. B-12 deficiency can also result in heart palpitations, digestive and circulatory issues, anemia and even vision loss. B-12 can be found in eggs, poultry, seafood and other meats and in B-12 fortified cereals and breads. B-12 does not occur naturally in any non-animal based products so vegetarian and vegan mothers will need to either take a B-12 supplement or eat foods with added B-12.
While the nutrients listed are some of the most important for breastfeeding mothers and babies, it's also important for mothers to remember to allow for an extra 400-500 calories in their diet for their own energy levels. Mothers also need to remember that their body will give to their baby before it gives to them, so maintaining proper nutrient intake is important for both mother and baby. While supplements may sometimes be necessary, the best way to ensure that the mother and baby are getting what they need is for mom to have a balanced and varied diet.

Breastfeeding

Postpartum Vitamins