Babies are known for their soft, beautiful skin. However, their skin is extremely sensitive to certain conditions, especially as newborns. When certain skin conditions appear, it can be concerning, especially for first-time parents. This article breaks down eight common baby's skin care conditions and the appropriate remedies.
Common Baby's Skin Care Conditions
1. Diaper Rash
Diaper dermatitis, commonly referred to as diaper rash, occurs for a number of reasons. For one, diaper rash happens after leaving a wet or soiled diaper on too long. It can also occur for wearing diapers for long periods of time. Bacterial infections also cause diaper rash. Other reasons are insufficient skin cleansing or the use of the wrong cleaning product.
To remedy this problem, you must regularly check and change your baby's diaper. It also helps if you let your baby's bottom get some air in between diaper changes. Also pay attention to your newborn's diet. To treat the rash, your pediatrician may prescribe special ointments.
2. Cutis Marmorata
When babies are cold, they're vulnerable to baby's skin care conditions like cutis marmorata. Cutis marmorata gives baby skin a purplish, pink hue, caused by superficial blood vessels simultaneously dilating and contracting. Keeping your baby warm is the perfect remedy for this condition.
3. Cradle Cap
Babies have a hard time balancing their skin's oil, especially in the first few months. Oftentimes, this results in cradle cap, or flaky, wax-like rashes. Cradle cap usually shows up on your baby's scalp, behind their ears, eyebrows, eyelids and around their nose. Typically, the cradle cap goes away within the first year of your baby's life.
When you notice flakes in your baby's hair, you can apply a bit of oil to his or her head. Gently brush the flakes to remove them from your baby's hair. Be sure to wash your baby's hair with a mild shampoo to remove the rest of the flakes and oil from their scalp. Leaving oil on their scalp increases cradle cap flakes.
4. Eczema
Eczema is more common in babies with parents that have allergies, asthma and atopic dermatitis. Babies with eczema develop a thick, scaly rash that's also triggered by irritants. Therefore, it's important to identify the irritants that cause these reactions. You should also only use mild cleansers and moisturizers on your baby's skin. If the problem persists, speak to your pediatrician about prescription medication.
5. Milia
It's common for babies to have milia, which are the accumulation of white bumps on their face. This condition occurs when a baby's oil glands are blocked by skin particles. Many people mistake milia for baby acne, which occurs because of excess yeast.
Milia shouldn't be a cause for concern. In fact, it typically goes away when your baby's glands fully open, which can take weeks.
6. Yeast Infection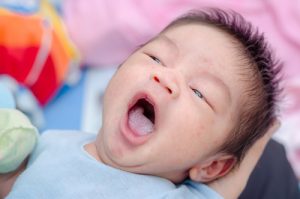 Baby yeast infections appear differently depending on their location and often occur after antibiotics. If your baby has milk-like white bumps on their tongue and mouth, they have oral thrush. If you see a red rash surrounded by little white bumps in their diaper area, it's a yeast diaper rash. Pediatricians resolve yeast infections with either an oral anti-yeast medication or anti-yeast diaper cream.
7. Erythema Toxicum
Erythema toxicum is a common newborn skin rash. This rash contains small bumps with fluid in them on the legs, face, chest and arms. It typically occurs in full-term newborns and usually goes away within a week without medication. However, if your baby's rash is associated with a fever, lack of appetite and fussiness, speak to your pediatrician immediately.
8. Sunburn
Of course, you'll want to take your baby out for fresh air. However, exposure to direct sunlight within the first six months puts them at risk of sunburn. Therefore, it's a good idea to apply a generous amount of baby sunscreen and a hat when you go outdoors, especially in warmer months. Ideally avoid the midday sun. Apply a cool compress to your baby's skin for up to 15 minutes for mild burns and contact your pediatrician for severe burns.
If you notice any of these baby's skin care conditions, you shouldn't worry too much. By keeping your baby's skin clean, warm and moisturized, you'll keep these symptoms at bay.

Baby's First Year

Postpartum Basics