With so many physical changes occurring when pregnant, it's often easy to overlook the changes that occur right on the surface level of our skin.
These specific skin changes happen for a variety of reasons: the influx of hormones, changes in blood circulation and the physical stretching of our bodies.
Skin Changes Related to Pregnancy Hormones
Melasma/Chloasma:
Hormones are notorious for causing an increase in the pigmentation of our skin. This increase in our skin color is due to a combination of increased levels of melanocyte stimulating hormones (the cells responsible for the dark pigments in our skin and hair) and increased estrogen levels. Chloasma is also known as the "mask of pregnancy" because it most often appears on the face. Patches of darker skin surrounded by our normal skin tone can appear on the cheeks and forehead. Women who spend a significant time outdoors are most prone to visible melasma. If bothersome, it's possible to treat melasma by avoiding sun exposure, skin lightening creams or a natural lightening substance like lemon. Otherwise, melasma tends to fade with time.
Moles & Freckles:
It's very common for pregnant women to notice more moles and freckles popping up on their bodies. This is directly linked to the increased melanocyte stimulating hormones and is usually nothing to be concerned about. The same rules for monitoring moles still apply. If you notice any suspicious looking moles, let your doctor take a look.
In some women, acne can reappear when they become pregnant. The same hormones that increase when pregnant tend to increase oil production in our sebaceous glands. Excess oil often leads to clogged pores and acne. Rest assured that this particular skin change is only temporary.
Skin Changes Related to Blood Flow
Spider Veins:
When pregnant, our blood volume increases by an incredible 50 percent. While this increase has many positive health benefits for our developing baby, the increase in pressure in our tiniest veins can cause them to become visible in our skin. Areas where the skin is most fragile and thin, like our upper chest and arms, can be prone to spider veins. Acupuncture is said to be helpful for spider veins due to its potential to promote healthy circulation via the stimulation of particular energy channels.
Varicose veins: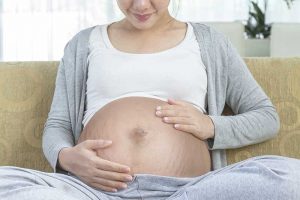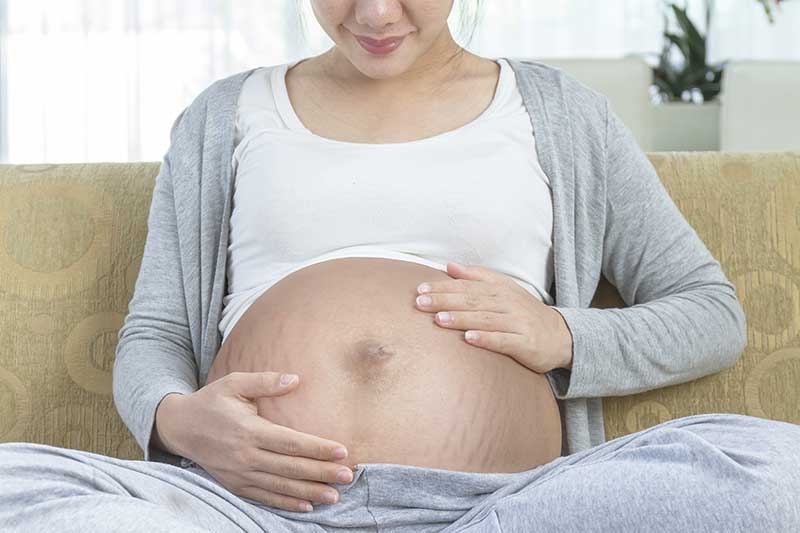 These bulging veins most often appear on our lower legs. Our leg veins shoulder much of the burden of circulating our blood back up toward our hearts. The extra circulatory load due to an increased blood volume can lead to the bulging and collapse of portions of our leg veins. This skin change does not happen to everyone. In fact, there is some degree of genetic disposition to varicose veins. In general, exercising and movement are great ways to keep blood flowing and prevent swelling in our legs. Keeping the legs elevated, wearing compression socks or stockings are other options. Herbal preparations of horse chestnut and gotu kola are said to be helpful for varicose veins. These herbs promote healthy circulation and increase the integrity of the vein itself.
Flushed Skin:
The increased blood volume causes our skin to appear pinker than it normally would. The "pregnancy glow" that many women experience is real, and it is directly related to the huge increase in circulation that accompanies the pregnant body. The skin shines due to the increased production of the fat glands.
Skin Changes Caused by Physical Expansion
Itchy, Dry, Skin:
The physical stretching of our skin can cause it to become itchy, taut and dry. Most women don't experience this skin change until halfway through their pregnancies or longer. Luckily, this issue can be quickly remedied with the use of an intensive moisturizer.
Pregnant or not, stretch marks are very common for women to experience. These small white lines on our skin are actually due to our collagen fibers stretching, breaking and causing a small degree of painless inflammation on our skin. These collagen fibers are responsible for keeping our skin stretchy, soft and supple. The reason many pregnant women develop stretch marks has to do with how quickly the skin stretches upon expansion of the body. Unlike a slow and steady weight gain over time, becoming pregnant stretches our skin in a rapid fashion. Many women have had success in treating their stretch marks with castor oil or aloe vera gel.
Each of the above listed skin changes are completely normal, treatable and many of them are only temporary. When undergoing so many new and unfamiliar changes, it's helpful to know that many women have experienced them previously.

Beauty

Symptoms and Changes