Our bodies are made to perform a variety of functions. During pregnancy, hormones and fetal growth cause the body to change, altering the effectiveness of certain organs. For some women, these functions are forever changed postpartum, causing them to choose to undergo surgery. There are, however, exercises you can do to improve altered lower body functions during and after pregnancy. Kegels, an exercise used to strengthen pelvic floor function, is a popular workout that assists with labor and delivery as well as recovery. By mastering these Kegel exercises, you can regain control over the bladder, vagina and other reproductive organs.
What are Kegel Exercises?
Kegels are pelvic floor and vaginal muscle strengthening techniques. They assist with reproductive function as well as prevent leakage, ease labor and delivery, and improve overall mobility. Many women struggle to successfully use Kegels. In fact, studies show 25% of women do Kegels incorrectly.
Doing Kegels improperly can be just as dangerous as choosing not to do them because it can add pressure to the abdominal muscles. This straining may cause additional problems, including pelvic organ prolapse.
When doing Kegel exercises, you're performing three actions simultaneously. To make sure you're doing it right, you can do them in front of a mirror. As you create a downward nodding motion with your clitoris, contract your anal muscles with a winking motion and move the perineal inward and upward. The perineal is the space between your anus and vagina.
Be sure to practice coordinating your breath during your Kegel exercises. Each rep should take between 3 to 15 seconds. Holding your breath during Kegel workouts causes straining, which is counterproductive to your workout.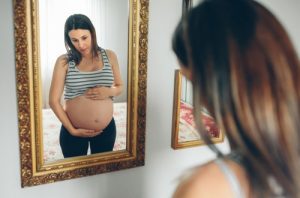 If practicing this in front of a mirror is inconvenient, there are alternative methods. For instance, if you are using the restroom, you can contract your urinary tract muscles to temporarily interrupt your urine flow. This assists with strengthening control over bladder incontinence. Be sure to use this method sparingly. Overuse can lead to urinary infections over time.
Another method involves using your finger. Insert one finger into your vagina and contract your muscles around your finger. Your ability to tighten your vaginal walls around your finger shows reproductive muscle improvement.
When to Perform Kegel Exercises
Since you don't need equipment to perform this exercise, you can do Kegel workouts anywhere you want. Whether you prefer to do them in a chair or on the floor, any time is appropriate. It's safe to start doing Kegel exercises in your second trimester, or at 14 weeks. Healthcare professionals recommend mothers do Kegel exercises twice a week.
Practicing Kegels during your pregnancy makes labor easier due to better muscle control during delivery. It also helps with bladder control and minimizes hemorrhoid risk. Pregnancy increases the prominence of bladder incontinence, making it easier to urinate on yourself when you cough, sneeze or even laugh.
Once you've had your baby, Kegel exercises are equally beneficial for recovery. They help heal the perineal area and restore stretched bladder and pelvic floor muscles. You can safely resume these exercises days after an uncomplicated vaginal birth.
If you experienced complications during the birth or delivered via C-section, your doctor determines when it's safe to continue doing Kegels. Once cleared, it's safe to perform Kegels as often as you like.
Conclusion
Having a baby is a beautiful journey filled with physical and emotional changes. After delivery, many moms are unhappy with the efficiency of the reproductive organs and undergo surgery. Instead, try doing Kegel exercises as a preventative method.
Kegels work during pregnancy to gain muscle control and ease labor. After labor and delivery, Kegels also help with the recovery process. Performing Kegel exercises helps heal your perineal, bladder and anal muscles, creating more control over bowels and urinary function. If you had an uncomplicated vaginal birth, Kegels are okay to do within days of delivery. If you've experienced complications or had a C-section, speak to your doctor before doing Kegels to avoid further damage.
In addition to practicing Kegels, maintaining a healthy lifestyle speeds up the healing process. Be sure to eat a balanced diet, stay hydrated and get adequate amounts of rest for optimal results.

Fitness

Prenatal Health