The baby is on its way, but the increased body pain is hard to ignore. A woman's physical body is altered from pregnancy and can put new strains on the back, neck, shoulders and abdominal muscles. Some studies have shown that massage therapy and a proper pregnancy massage could provide relief for the mother and provide potential positive effects for the rest of the pregnancy.
The Benefits of Pregnancy Massage
Research has found that massage may increase the release of hormones like serotonin and dopamine and provide an overall improvement of mood. It can decrease indicators of stress such as cortisol. It also can relieve pain and strengthen the immune system.
Process Different from Regular Massage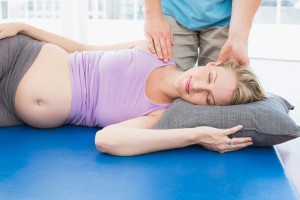 Massage therapists treating pregnant women have to alter their procedures due to the special bone and muscle stress that are experienced through pregnancy. So some use a specialized table or cushions to provide extra comfort. The table can be hollowed out for the woman to lie face down. If this position proves stressful, the woman can lie on her side getting support from a body pillow or wedges if a traditional table is only available. It's not advisable to lie on the back since the uterus can put undue pressure on blood flow between the legs and heart in later stages of the pregnancy. It's good to have a specialized prenatal massage therapist, for they are aware of the special needs of a pregnant woman. The massage session usually lasts about an hour. If professional prenatal massage is too much for the finances, your partner can provide a loving touch with the assistance of an instructional book or video.
Is it Safe?
There are benefits from massage therapy that we already know about such pain relief, sleep improvement and promoting relaxation. But from a scientific viewpoint, more research is needed. There is a lack of standards of certification for massage therapy and there haven't been thorough studies on it to provide clear regulations for treatment. Doctors and massage therapists avoid massage during the first trimester since there's a high potential of miscarriage during that time. It's unclear if massage during this stage causes a miscarriage. But therapists will decline performing therapy during this period due to liability reasons. Another concern is receiving massage on the legs and thighs. The quantity of blood can increase up to 50 percent in a pregnant woman and causes circulatory changes, especially in the legs. Therapists are very careful to provide light strokes in the legs to motivate blood to the heart. No more undue pressure is needed. It´s important to inform the massage therapist about the pregnancy because some techniques should not be used. For example, the massage of the lower lumbar region should be avoided as this area is less stable during pregnancy due to hormonal influences. In addition, foot reflex massage and acupuncture should be avoided.
When To Avoid Massage
A woman should avoid massage if she has a high risk of miscarriage. It should be declined if the woman is enduring nausea or morning sickness. The treatment should also be avoided if the mother is at risk of premature labor.
Consult Your Doctor
As with any special treatment or procedure during pregnancy, especially since there are few standards regulating massage during this time, a woman should consult her doctor before agreeing to go through with massage therapy. The massage therapist may even need a consent and liability waiver signed by the doctor to proceed with treatment.

Emotional Balance

Everyday You

Prenatal Health