Being pregnant is a wonderful gift, but it is not a secret that the little twinkle in your eye may be getting in the way of you getting a full night's sleep before the baby arrives. Luckily, there are some veteran tips and tricks for ensuring you get the sleep you need during each stage of your pregnancy.
During this stage in pregnancy, your barely there baby bump will already be making some big changes to your body. These changing hormones can heighten your sensitivity to smells and increase morning sickness. Switching out your sheets every week for a clean set can help you feel refreshed all through the night and keep an outdated set from waking you with its offensive odors. Also, start your pregnancy off right by establishing a healthy sleep regiment. Set a schedule and stick to it. Limit use of electronics or water intake just before bed. It may be tempting to stay up late looking at baby names and nursery themes, but the best thing you can do for your baby is rest. Get in the habit of sleeping on your side. As you progress further into your pregnancy, sleeping on your stomach or back may be impossible.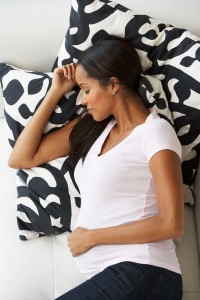 Cut out caffeine and consider taking up a morning yoga practice that you can continue until the baby's birth. Some moms also recommend keeping saltines on your bedside table to quell early morning queasiness.
By this point in your pregnancy, the morning sickness has probably gone and hunger has taken its place. Although it is tempting, do not take the phrase eating for two too seriously. Unnecessary weight gain can negatively influence your sleep in later trimesters by blocking breathing during sleep and reducing oxygen levels. In these months, lying down may become its own struggle as women often face heartburn and cramps. Cramps are caused by reduced oxygen flow to your limbs and can be avoided by a light massage before you turn in for the night. As for heartburn, take it easy on your stomach by limiting the amounts of acidic foods in your diet and avoid eating large meals just before bed. Try eating larger morning meals and a lighter evening snack. Continue to get a proper amount of exercise during the day because the excess energy may keep you up at night. If you can and you haven't already, try scheduling short afternoon naps. Sleep for no more than 30 minutes at a time during these sunshine slumbers, but allow yourself to refresh and refuel about halfway through your day.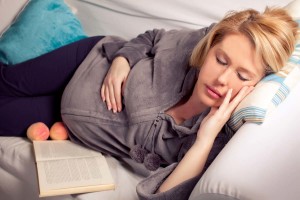 As you enter the third and final stage of your pregnancy, sleep is the most necessary and sometimes the most evasive. Lying down can be a struggle in itself and rearranging yourself once you are there is nearly impossible. The best option from this point out is to get creative. Find what works best for you and stick to it. Getting comfortable can be a challenge, but it isn't impossible. Tradition has it that sleeping on your left side is the best, as it aids digestion. If you cannot seem to get comfortable in your bed, ditch it. A reclining chair better suits the needs of some sleepless pregnant women. Try pampering yourself with extra pillow support between your legs or under your belly or back. Invest in a pregnancy pillow. Keep a close watch on your diet or liquid intake if you are frequently awakened by heartburn or the need to use the restroom. Don't forget about the useful practices that you used in the first and second trimester. Be understanding of the needs of your body as well as the needs of your baby. No doubt, this close to term your mind may be its own culprit in keeping you awake. Fight against the anxiety with a couple minutes of nightly meditation or a relaxing cup of decaffeinated tea. (Limit yourself to one cup though or you may be up with a full bladder all night.) Whichever way you choose to help you find that peaceful night's rest, remember to make it count. You're sleeping for two, now.

Everyday You


Sleep