Breath is the foundation of life. Building a relationship between you and your breath, especially while pregnant, will have lasting effects for you and your baby. It is vital during pregnancy to keep the nervous system regulated, that in turn regulates the baby's system as it is being built. It is also important to strengthen the connection and communication between the mother and her growing baby. Finding a relaxed and interconnected state of mind can help to develop this connection.
Stress Reduction
You might wonder, how can something as simple as breathing exercises help to reduce stress? Stress is everywhere in life, especially during pregnancy. Pregnancy may bring about feelings of needing to do it all, a disconnect between mother and their body, the pregnancy, and fears that may surround labor and childbirth. It is important to remember to slow down during pregnancy and to try to find time to let your body unwind.
The pregnant body goes through changes rapidly and is constantly working to create your baby. By working to develop a daily breathwork routine you can help to transform stress into a healthier state of mind. This process can help to access your parasympathetic nervous system to stay clear, regulated, and to handle the constant changes throughout pregnancy and labor. When you are able to self-regulate through a breathwork practice, your relaxed state of mind imprints onto your growing baby to help regulate each other.
Developing this practice will help you to increase a sense of connection and communication between self and the baby. A relaxed and peaceful state of mind makes it much easier to tune into the energy of your baby and to communicate with them through talking, music, reading, or even gently rubbing your belly.
Labor Planning
Being able to soften and relax your body is one of the most important parts of birth. Regardless of what type of birth you are having, stress and tension within the body can make things more difficult for both delivery and recovery. Taking the time to develop a breathing practice and to regulate your nervous system will help to support your body and mind throughout labor and delivery.
While developing breathwork, you become more attuned to your body and the tension within it. Breathing exercises can help you to release the tension and to keep a gentle awareness of the places that hold it.
Patterned Breathing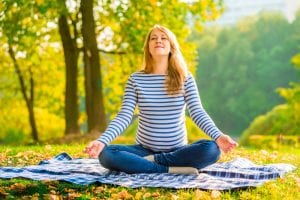 Patterned breathing is the act of breathing at any number of rates and depths. Some women prefer to breath deeply, using their diaphram to fill the abdomen with air. Others may prefer light breathing, inhaling just enough hair to fill their chest. When working to form a patterned breathing it is important to find a breath that works for you and that has a calming and relaxing effect. You should feel comfortable during the breathing process and it should not cause you to feel light-headed or dizzy.
You can use different patterns of breathing during different stages of labor to help focus on each contraction and make it a productive part of the birthing process.
Breathing Practices and Exercises to Try
Keep in Mind
It is important to keep in mind to go slowly and to give your body the time and space that it needs to relax and to relieve tension. Try to practice breathing exercises on a daily basis. Breathwork and breathing exercises can work to help your pregnancy be less stressful and for an easier labor and birthing process. Taking the time to focus on you, your body, and your baby is one of the best things that you can do during your pregnancy.

Emotional Balance

Everyday You