Whether you're a first-time mom or you have plenty of munchkins running around, sorting through baby gear in an effort to build your registry can be overwhelming. There are dozens of adorable little sleepers calling your name, not to mention the piles of gear you could potentially choose to use for your little one down the road. Then there's the slew of items that look cute, sound fun and seem like a good idea, but may end up collecting dust rather than memories. If you want to build a practical baby registry–one that will genuinely help you guide your baby shower guests to the items you'll need to care for your baby, these tips can make it easier.
Include a Wide Price Range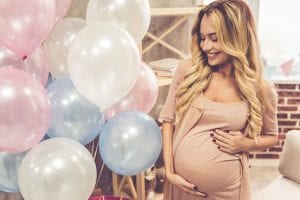 No, it's not bad etiquette to put baby's crib, car seat, and stroller on your list. In fact, it's considered a smart move to go ahead and put it on there.
Whether Grandma wants to know exactly what you really need for your baby shower or you have several coworkers or friends who are going in together on a bigger gift, you want those big-ticket items on the list. Equally necessary, however, are the smaller items. Many guests may have a smaller budget, while others will find themselves looking for a small item to round out a gift basket or to finish off their budget.
Skip the Clothes
Yes, all those tiny little outfits are absolutely adorable. Sleepers in every color of the rainbow, onesies proclaiming "Baby's First" everything, and adorable little outfits hang from the shelf of every baby store. For the most part, however, your baby shower guests are going to decide for themselves what clothing items they want to buy. Practically speaking, unless there are one or two outfits that you really want, go ahead and skip the clothing as you're putting together your list. Chances are, you'll end up with more than enough anyway. If you don't, clothing is one of the things that's most fun to pick out yourself.
Dodge Unnecessary Items
If you're on a tight budget and you know you'll struggle to pick up some of the things you'll need for your baby, let your baby registry reflect it. While your needs will vary based on your personal needs and your baby's personality, there are some items that you can safely keep off of your registry list. Some items you can skip include:
Wipe warmers
Bottle warmers
Expensive bedding sets (all baby really needs is a crib sheet)
Newborn shoes
Sleep positioners (they aren't recommended by the American Academy of Pediatrics)
A specific baby food maker to make your own baby food (you can use your food processor with no problem!)
Formula mixers
Get Practical with Your Needs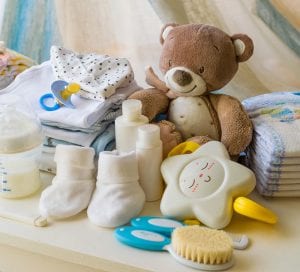 When putting together your registry list, think about what you are really going to need to take care of your baby. Before you put together your list, take the time to think it through. Some things to consider:
Will you really need a stroller and a baby carrier, or will just one do?
Can you skip the bucket carrier and use a car seat that will grow with your little one?
Do you want a changing table, or will a changing pad on top of the dresser, or on the floor, serve you just as well?
What kind of diapers do you plan to use? If you're on a tight budget, cloth diapers can be a great practical solution.
Do you really need a bathtub and those hooded baby towels, or can you get away with washing baby in the sink or in the bathtub with you and using a regular towel?
Include the Items You Really Need
It's tempting to create a list filled with the adorable items that line the shelves at department stores. A practical list, however, will take a closer look at the items that you really need for your little one and will guarantee the items will be used. Some of those smaller, but useful items include:
Diaper rash cream
Diapers, especially if you're using disposables
Baby body wash
A baby thermometer
Breast milk bags, if you're planning to pump
Extra pump parts
Wipes
Nail clippers
Baby acetaminophen
Nasal aspirator
Crib sheets
Crafting a list of items you'd love to have for your new addition isn't hard. Going practical, however, means narrowing down that list and choosing only the items that you really need. Creating a helpful and practical list that covers all the price points is something your baby showers guests will appreciate.

Preparing for Baby


Shopping Lists