Pregnancy is a time of great joy, anticipation and change in a woman's life. Most of the changes are for the best, but some of the changes can cause concern. Here are some of the common pregnancy concerns and some suggestions on how to deal with them.
Morning Sickness
Morning sickness is caused by changing hormones in the expectant mother's body. While some women experience morning sickness during the morning hours, others can have nausea and vomiting throughout the day. It might help the expectant mom to remember that this phase of nausea is usually temporary. But in the meantime, there are a few tricks to lessen the severity of morning sickness until this phase of pregnancy passes. Eating small meals is reported to have the effect of lessening nausea. Many mothers swear that eating a couple of crackers before even getting out of bed in the morning settles their stomach enough to get the day started right. Women have also used herbs in various forms for nausea and vomiting control during pregnancy. Chamomile tea is good for the complexion and settles the stomach, as does mint tea. Ginger, cardamom and sweet orange ingredients in teas are well known to settle the stomach as well and be very safe for both mom and the developing baby. Chamomile, ginger, cardamom, mint and sweet orange essential oils are also quite soothing when inhaled as well. Place a few drops on a cotton ball or piece of cloth and inhale for a lovely scent as well as stomach settling capabilities.
Insomnia
Because the pregnant woman's body is changing and the new baby is causing anticipation, expectant mothers can sometimes experience insomnia. Be sure to include regular exercise in your daily pregnancy regime to burn off any excess energy you may have before bedtime. Some teas, like chamomile and mint tea have been used through the ages to calm, soothe and aid a person in falling asleep. Certain essential oils have properties that bring sleep. Ylang ylang, sandalwood, hops, lavender and vetiver essential oils will help you relax as well, giving your tired body a chance to calmly fall asleep.
Pains and Aches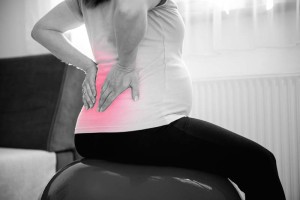 Because your body is changing, it may also be painful at times. Keeping active keeps your muscles in good tone, preparing you for a healthy labor. Massage is also a useful tool to use when your back or feet ache. You can add to the massage benefits by using essential oils mixed in with unscented body oil and massaging the oil into the achy part of your body. Do not use all over your body, but concentrate the essential oil's power on the most painful parts. Massage improves circulation as does the herbal oil. Some of the most popular herbal essential oils to use for aches and pains are ginger and German chamomile. Be careful to wash your hands after using these oils, as you don't want them to get into your mouth or eyes.
Swollen Feet
Edema is the medical term for swollen feet. One of the easiest ways to address swollen ankles and feet are to elevate them. Remove your shoes, massage your feet and then prop them up on a pillow. Be sure your feet are above the level of your heart for the best results. Add some geranium or juniper essential oils to unscented lotion and massage the feet and ankles with the lovely scent. You will feel more relaxed and your feet will reduce in size, feel better and smell nice, too.
Stress Reduction
Some expectant mom's worry about things during their pregnancy. They are concerned about whether or not they will be good moms and be able to take proper care of their babies. Now is a great time to deal with any emotional issues you may be having. Any healthy behavior you can do will keep both you and the baby healthy in the long run. Regular exercise such as yoga will make you stronger and improve your outlook on life. If you usually use caffeine, now is a good time to stop. Reducing or eliminating coffee and caffeinated drinks and teas keep you calmer. Essential oils and herbal teas are great ways to relax from the stresses of your pregnancy or your daily life. Mint and chamomile teas are very soothing and healthful. Essential oils, whether used for massages or inhaled, can be very calming, too. Choose sweet orange or sweet marjoram oils to inhale for relaxation. You can also add these oils into a spray bottle and inhale the mist. The scent will make your surroundings smell nice, too.


Concerns and Complications

Pregnancy Basics