What happens when a pregnant woman has fibromyalgia? The interaction could be positive or negative, but having a healthy pregnancy with fibromyalgia is entirely possible.
Fibromyalgia is sometimes referred to as FM or fibro. It is a nervous system disorder characterized by widespread musculoskeletal pain, fatigue, impaired concentration and cognition (called fibro fog), as well as sleep disruptions, plus many other debilitating symptoms.
Will being pregnant make FM symptoms worse? Within the medical community, as well as among woman with the disorder who have had children, the verdict is mixed. Some evidence supports the claim that pregnancy can worsen the symptoms of the disorder, but there is also evidence suggesting that pregnancy can have a positive effect on the symptoms of fibromyalgia. It may well be that the interaction between pregnancy and FM will be different for each woman.
What to Expect When You Have Fibromyalgia and You're Pregnant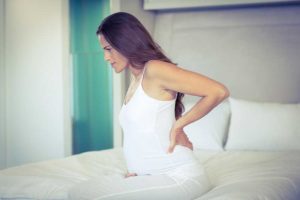 In addition to typical side effects of pregnancy like morning sickness, back pain and insomnia, women with this disorder may experience an increase in pain and fatigue. Some women, however, report that they feel better overall while pregnant. The hormonal changes that come with pregnancy may be to thank for that.
Pregnancy releases the hormones oxytocin and relaxin. Many medical professionals believe these hormones can have a positive effect on pain. Oxytocin is the hormone primarily related to the bonding of the mother and child, but multiple studies have also shown positive effects on pain. On the other hand, relaxin loosens the tough tissues that connect your joints and softens and widens the cervix, making the birthing process easier. It peaks at 14 weeks and again at childbirth.
Pregnancy can be physically difficult for any woman. Chances are it will be somewhat worse when also dealing with FM. Focus on the child growing within you and do everything you can to ensure you and the baby are as healthy as possible. Work with your doctors and support system to try and keep your pain as minimal as possible. Self-care during pregnancy is absolutely vital for women with fibromyalgia.
Delivery does not seem to be impacted by FM. Women with fibromyalgia are able to tolerate birth just as well as the average woman, and also don't seem to experience more pain than the typical woman during labor. An epidural is a safe option for dealing with pain during labor if the situation calls for it.
What Can Help
There are many recommendations to help manage fibromyalgia symptoms during pregnancy, including the following:
Get plenty of rest.
Get regular light exercise, such as swimming in a warm pool and stretching at the discretion of a physical therapist.
Make use of meditation/yoga/massage or similar stress-relieving activities.
Use moist heat for pain, such as warm baths with Epsom salt.
Eat a healthy diet and pay attention to how diet impacts your symptoms (keeping a food diary helps).
Be sure to minimize highly-processed foods such as simple carbohydrates and artificial sweeteners. Instead, focus on fruits, vegetables and lean proteins.
Anti-inflammatory foods have been shown to reduce pain in some patients.
Consider talking with a therapist.
Find support from others, especially from other moms who suffer from the same disorder (online support groups are a great place to start).
Do plenty of research and talk to your doctors.
Ask for help from loved ones to ensure you get enough rest and minimize stress.
Be prepared to stay in touch with not only your OBGYN but also your fibromyalgia specialist throughout your pregnancy. For the healthiest pregnancy, it is recommended that you stop taking pain medication and antidepressants, but this should be done under the supervision and guidance of your doctor.
Pregnancy while having fibromyalgia can be difficult for some but easier for others. Before you make the decision to create a new life, speak to your support group, physician and do your research. Conception with fibromyalgia is completely plausible as long as you take care of yourself and the life growing inside of you. See a physician regularly and find what works best for your symptom relief.


Concerns and Complications

Pregnancy Basics