In many instances, headaches that occur during pregnancy are short-lived and precipitated by common, treatable causes during pregnancy. This brief blog will chronicle the medical phenomenon of headaches in expecting women, the factors that might elicit this uncomfortable condition, in addition to offering suggestions on specific remedial methods women may choose to employ.
The Potential Causes of Headaches During Pregnancy
Typically, the head discomfort in question can have numerous well-known precipitators including:
Hormonal Changes
When a woman becomes pregnant, especially during the first trimester, her body undergoes a drastic increase in the production and systemic concentration of various hormones. This alteration in body chemistry can cause mild physical manifestations like head pains.
Specific Strong Odors
Pregnant women are especially susceptible to head discomfort from the aroma of pungent foods and strong fragrances.
Stress
Heightened levels of physical and emotional tension may produce headaches in expecting women. Physical issues may be more pronounced during pregnancy's third and final trimester because a woman's weight significantly increases and maintaining proper posture becomes more difficult.
Increased Blood Volume
Pregnancy precipitates a major increase in blood volume, which places a greater strain on the blood vessels and circulatory system and might result in head discomfort.
Nasal Congestion
The bodies of expecting women have an increased amount of swelling. Such inflammation often impacts the nasal passages and causes sinus pressure.
Low Blood Sugar
Expecting mothers might experience low blood sugar because of their increased nutritional needs. Sometimes, this need results in discomfort in the head.
Dehydration
A pregnant woman's water intake serves the need of two living beings. Therefore, should she fail to drink more water or other liquids than the average person, she could be susceptible to dehydration. The reduced amount of fluid in the body makes the blood thicker. Very small vessels are therefore less well supplied with blood, so that there is an oxygen deficiency in the tissue. This can lead to headaches.
When Is There Cause for Concern?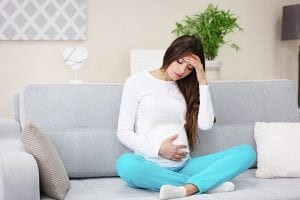 Although most occurrences of discomfort are not reason for alarm, there are certain occasions that might necessitate further investigation and may be indicative of a more serious underlying medical problem.
Arguably, the most ominous headache cause precipitated by pregnancy is preeclampsia, which is pregnancy-induced high blood pressure. This potentially dangerous condition often elicits severe head pain that may first begin in the third trimester and be accompanied by other symptoms such as dizziness, nausea, vomiting, swollen extremities and vision disturbances. Furthermore, such manifestations could also be symptomatic of other serious illnesses such as migraines.
Safe Treatment Tips
Should the headache come from preeclampsia or any other significant medical condition, a health professional will need to manage treatment and try to remediate the issue. However, for the treatment of head discomfort that's transient, mild and accompanied by no other major or bothersome symptoms, pregnant women might employ any one or a combination of the following suggestions:
Applying Hot and Cold Compresses
Placing towels soaked with hot or cold water on the eyes or forehead might alleviate head pain.
Avoiding Certain Foods and Beverages
Certain types of foods and drinks, particularly those containing high contents of chemicals such as alcohol, caffeine, salt and sugar can trigger discomfort.
Spending Time in Dark Rooms
When incidents of head discomfort occur, some pregnant women might find relief by going to a darkened room or space and closing their eyes until the pain dissipates.
Treating Nasal Symptoms
It's important to keep the nasal passages clear. That said, certain over-the-counter or prescription medications like sprays and oral preparations may contain drugs that are not always suitable for pregnant women. Before using any medications, expecting mothers should speak with their doctors or use natural remedies.
Eating Properly
Expecting women should always remember they're eating for two. Practicing healthy dietary habits ensures that blood sugar levels are adequately maintained.
Staying Hydrated
Soon-to-be-mothers are also drinking for two and can avoid dehydration by consuming increasing quantities of water and other healthy drinks. 1 to 1.5 liters of liquid, which should be drunk throughout the day, is ideal.
Exercise
Physical activity can offer a means of releasing stress and help the body regulate hormonal concentrations. That said, the level of exertion a pregnant woman can safely perform will depend upon her stage of pregnancy, in addition to her overall health.
Medications
Doctors say that over-the-counter pain killers like acetaminophen are safe for pregnant women to use. Products auch as ibuprofen should only be taken during the first and second trimester, while naproxen should be avoided during the entire pregnancy. Always talk to your doctor, before taking any medication.

Pregnancy Basics

Symptoms and Changes