Heartburn, also known as acid indigestion or acid reflux, is a common side effect of pregnancy. Though it may be difficult for some women to altogether avoid heartburn during pregnancy, there are ways that the pain can be alleviated or avoided. First, let's understand why heartburn happens during pregnancy. Progesterone, a hormone that increases in the body during pregnancy in order to relax the uterus for growth also relaxes the cardiac sphincter, which separates the esophagus from the stomach. When this sphincter is relaxed, stomach acid is able to travel into the esophagus, causing a painful burning sensation in the chest, hence the name "heartburn." If you're experiencing pregnancy heartburn, take solace knowing that you don't have to take it lying down. There are steps you can take to alleviate or avoid your painful symptoms.
Avoid foods that aggravate heartburn such as fried, greasy and/or spicy foods and citrusy or acidic foods and drinks. Some of the common culprits are not so obvious: Even milk can make heartburn worse. Also avoid caffeine, tomatoes, mustard, vinegar, mint and carbonated drinks. If this doesn't work, consider keeping a food journal in which you record when your heartburn symptoms occur as well as what you ate that day, which may help you identify the problem food.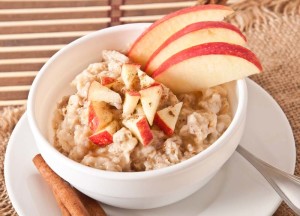 If you are tired of hearing what NOT to eat while pregnant, try adding these foods, which may actually relieve your heartburn symptoms! For example, oatmeal is a great pregnancy breakfast. It is filling and will not cause heartburn. Some women actually claim that apples helped to take away their symptoms, so try eating half an apple or so when you feel the burn coming on. Also, ask your doctor for suggestions.
In addition to making changes to your diet, you can also change the way that you eat to decrease your heartburn. Avoid eating large meals. Instead, try eating in smaller amounts throughout the day, because if there is a lot of food in the stomach, stomach acid will be pushed into the esophagus through the cardiac sphincter. You can also avoid drinking a lot of fluids during mealtimes. Drink plenty of fluids throughout the rest of the day to stay hydrated.
Avoid eating and drinking right before bed. When you lie down, gravity allows food to enter the esophagus more easily. In addition, when sleeping and relaxing, prop yourself up with pillows to avoid stomach acid traveling into the esophagus. This technique is especially effective to alleviate heartburn in early pregnancy; during later pregnancy, sleeping on your back is not recommended, but you can also use this technique while sleeping on your side.
Wear loose-fitting clothes.
A tight belt, bra or sash around the waist can squeeze stomach acid into the esophagus. Wearing loose-fitting, comfortable clothing will help to decrease heartburn symptoms.
When picking something up, bend at the knees, not the waist. Not only is this method better for your back, it will also keep acid from freely running into your esophagus (and perhaps your mouth).
This works to neutralize stomach acid. Please check with your physician before doing this, as some brands may not be suitable for pregnant women.
By implementing these heartburn-avoidance strategies, you can combat this unpleasant side effect of pregnancy. Don't forget to discuss your symptoms with your physician, who may be able to suggest additional techniques.

Pregnancy Basics

Symptoms and Changes