When it comes to maternity wear, there's no need to drop big bucks on every style of maternity clothes. With simple modifications and easy wardrobe additions, an expecting mom-to-be can get a lot of mileage out of what's already in her closet.
Modify Your Pockets
While many women prefer to stick with the flowy dress route their whole pregnancy in order to avoid the hassle of pants altogether, for those jeans girls, or those looking for a warmer option, one sewing modification can help extend your pants through your pregnancy with ease.
For this DIY maternity hack, grab a pair of jeans that fit from the thighs down and a half of a yard of knit ribbing.
To begin, turn your pants inside out and cut out the back side of the pants pocket and top of the waistband, leaving at least one quarter inch of a seam allowance. Next, cut a long rectangle of knit ribbing that is one inch wider than the width of the pocket and twice as long as the height of the pocket. Fold the long side of the rectangle in half and line up the folded edge with the waistband and pin the outside edge of the jeans and pocket to the side of the knit ribbing. Then sew the pinned side in place and repeat the process on the other side. To close up the pockets, simply pin the pockets shut along the bottom of the pocket and sew the ribbing into place, trimming any extra fabric around the pocket.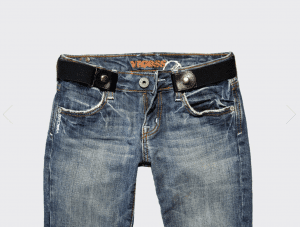 If cutting up your favorite pre-pregnancy jeans or turning into a sewing maven isn't quite up your alley, there is one option that can help moms avoid uncomfortable belts and saggy waistlines during and after pregnancy.
FreeBelts™: A Buckle-Free Option
The FreeBelts™ product came about after the company understood the need to create a simplified belt that didn't require the hassle of dealing with buckles or belt sizing. FreeBelts™ is ideal during and after pregnancy as it provides hassle-free dressing (especially when a baby bump provides limited dexterity), and a time-saver for bathroom breaks (one thing any pregnant women can appreciate).
These elastic, custom-made stretch belts snap around belt loops without the need for a buckle to fasten allowing for maximum support and comfort without a stiff buckle pressing into your baby-bump or stomach (something any pregnant or post-labor mom can be happy about).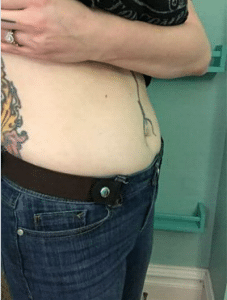 Sure, maternity pants are in high demand, but for some women, the idea of wearing regular jeans is something worth celebrating. Adding this benefit to their list of pros, FreeBelts™ is comfortable and convenient. These belts allow expecting moms to wear a pair of maternity or regular pants and jeans, with room to grow, for longer periods of time during pregnancy by simply adjusting the belt size little by little. In addition, it allows you to remain stylish, by eliminating the bulky buckle bulge and offering a variety of colors to choose from.
Whether you're looking to take on sewing as a new hobby during your pregnancy, are an experienced DIYer or simply want to stay fashionable during your pregnancy without the unnecessary hassle, there are plenty of maternity options during and after your pregnancy.
This article is sponsored by FreeBelts™. As part of Park's outreach to the HealthyPregnancy.com community, FreeBelts™ will be providing three product giveaways to three random HealthyPregnancy.com followers on Instagram. Be sure to follow us at AHealthyPregnancy on Instagram for more details on how to enter.

Beauty

Everyday You