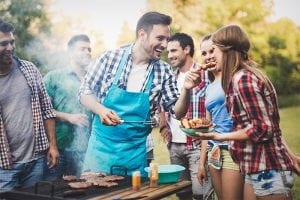 If you're pregnant during the time of the year when the weather is warm, chances are you'll be invited to a backyard barbecue or you'll even want to throw one yourself. However, before you enjoy all the foods that are often on the menu for a cookout, it's important to know which items may pose a risk for you during pregnancy. That doesn't mean you don't get to eat any of your favorite entrees and side dishes at a barbecue, though. You just have to know what to look out for.
Deli Meats and Hot Dogs
Consuming these foods increases your risk of being exposed to Listeria, a bacteria that can lead to a rare and very serious infection. Listeria has also been connected to birth defects, miscarriages and stillborn birth. If you want to enjoy cold cuts or a hot dog at a barbecue, make sure that the meats are cooked to at least 165 F. As a good rule to follow, you can tell whether the hot dog is done if it's steaming when you cut into it. If you get to the party and there's already a tray of cooked hot dogs on the serving table, warm your hot dog in the microwave before eating it to make sure it's thoroughly cooked.
Pasta Salad and Potato Salad
If these barbecue side dishes are left out in the sun for extended periods of time, they could carry Listeria. If you get to a cookout and don't know how long the potato or pasta salad has been on the table, it's best to pass. These foods shouldn't be out for longer than two hours if the temperature is below 90 F, and no longer than an hour if the temperature is above 90 F.
Burgers
If you like your burgers medium-rare, you should make sure the beef is cooked a little longer when you're pregnant. During pregnancy, you have a weaker immune system, which means it's easier to get food poisoning. In addition to Listeria, you could also be exposed to harmful bacteria like salmonella and E. coli when you consume meat that has not been fully cooked. If you get sick as a result of eating rare or medium-rare meat, this could lead to dehydration and could bring on premature contractions. Make sure your burger is well-done and use a thermometer if possible to see that the meat has an internal temperature of 160 F. Make sure that all cooked burgers are placed on a clean plate so that there's no cross contamination with uncooked meat.
Sprouted Veggies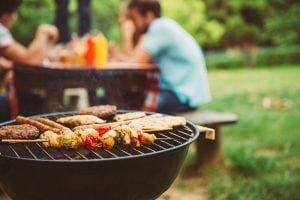 If you're attending a barbecue with a variety of healthy options like alfalfa or bean sprouts for salads or burger toppings, you should probably skip the sprouts if you're pregnant. Sprouts grow in damp environments, which are also breeding grounds for bacteria like E. coli and salmonella.
BBQ Chicken
This is a staple at most cookouts, and just like with burgers, you have to make sure your chicken is cooked all the way through in order to enjoy it safely. Chicken should be at least 165 F before you consume it. Even if barbecue chicken is one of your favorites, keep in mind that the journal Nutrition warns that eating lots of barbecued meat could cause low birth weight, since grilled meat contains PAHs or polycyclic aromatic hydrocarbons. PAH compounds occur when meat is cooked at high temperatures, and these could affect your baby's development. You can avoid being overly exposed to PAHs by cooking your chicken in a skillet or in the oven before placing it on the grill. This way, you won't have to grill it as long and can still get the smoky barbecue taste you're craving.
Ice Cream
Finally, enjoying some homemade ice cream for dessert while at a barbecue is pretty common, and may be one of the treats you're looking forward to. However, be aware that some ice creams could make it easier for you to get salmonella. Custard-based ice creams are made using raw eggs, and even chilling the ice cream won't eliminate the bacteria. If you want to add some whipped cream to your ice cream, be sure it's pasteurized and not raw to reduce the chances of bacterial contamination.

Diet

Prenatal Health