During pregnancy, swollen feet are a common occurrence and can leave you feeling defeated and miserable at the end of a long day. But rest assured, there are some simple tips that may help relieve the discomfort of swelling.
Being swollen is not a pretty side effect of pregnancy, but it unfortunately affects several women who are in their childbearing years. Since it is oftentimes difficult to reach your toes to even put on shoes at certain points of the pregnancy, you may need a helper in trying out some of the following suggestions.
1. Prop Your Feet Up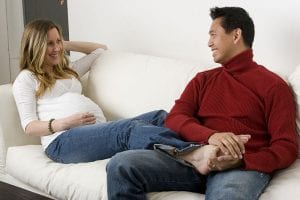 One of the best things you can do for swelling relief is simply sit down in a chair and rest the lower half of your body. If you are sitting down for a while, try propping your legs up higher than your heart on a pillow to help the blood flow. Having your significant-other massage your calves and toes may help you feel better as well, but be sure to avoid certain pressure points as contractions can occur. The more you are off of your achy feet, the better they will feel. Resting has other benefits as well, for example, your blood pressure and heart rate will be more regulated if you take the time to rest and sit if you are able to.
2. Change Your Sleeping Position
Sleeping while pregnant is a difficult subject to begin with, but if you lay on your left side, the blood can flow better to and from your heart and your swelling will decrease or stay at a minimum. Try adding a pregnancy pillow for added support and comfort, and a pillow between your knees to help with pressure on your joints. If you can get a good night's sleep, your long days of being pregnant will be more bearable.
3. Cut Out Salt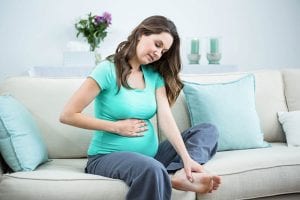 Okay, maybe not entirely, but at least limit your salt intake because salt can cause swelling. The more salt you consume, the more water your body retains and the more swollen your extremities will be. Just choose a healthier alternative for your snacking or pregnancy hunger needs (such as fruit, vegetables, or salt-free nuts) and your body will thank you later.
4. Hydrate, Hydrate, Hydrate
The more water you drink, the better off your entire pregnancy will be, and you will have a great habit formed for when or if you choose to breastfeed your newborn. Water consumption will help your body temperature stay low too, which will help reduce your chance of achiness as higher temps will lead to increased swelling.
5. Stretch Often
Gentle stretches throughout the day will help your legs feel better and help prevent charlie-horse cramps in each foot and your toes. Swelling will be kept at bay if you incorporate stretching into your day. Simply press your toes against a wall and stretch out your calf muscles. If you feel a charlie-horse cramp in the lower parts of your body come along, grab a banana for quick relief.
6. Wear Compression Socks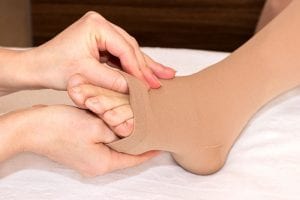 Compression socks aren't the most fashionable choice for your footwear needs, but they will certainly help your swelling. The main purpose of wearing compression socks is to help the blood flow in your legs which will, in turn, prevent swelling and blood clots.
7. Talk to Your Doctor
If your swelling continues and you cannot get relief, be sure to talk to your healthcare provider as this can sometimes be a sign of bigger issues such as preeclampsia. Your doctor may recommend further measures for swelling relief. Being open with your doctor about the symptoms you are dealing with is crucial to a healthy pregnancy.

Everyday You