Everyone told you to lose weight before you got pregnant, but that didn't happen. Now what? What risks do you and your baby face in a plus-size pregnancy and how can you minimize their chances? Should you diet while you're pregnant? What other concerns should you prepare for?
The Center for Disease Control says that more than half of 20 to 44-year-old women are overweight. About a third of those are considered obese. Obesity increases anyone's chances of health problems and that's especially true in pregnancy. Educating yourself about possible problems and their solutions can help your pregnancy and birth be as carefree as any other.
Potential Problems and Possible Preventatives
Diabetes Concerns
Your chances of gestational diabetes are two to eight times greater than women whose BMI is under 25. This condition increases complications like pre-term delivery and the need for C-sections. Your doctor may suggest insulin shots, but if not, you can generally manage it with activity and diet.
Plus Size Pregnancy, Plus Size Babies
Larger moms have babies topping nine pounds about 14 percent more often, and with gestational diabetes, the risk rises to about 20 percent. It turns out that diet changes can even help control baby's weight, but do it safely! Keep a record of what and how much you're eating and ask your doctor where to improve.
Blood Pressure Situations
Preeclampsia, a dangerous form of high blood pressure that occurs mostly after 20 weeks of pregnancy, strikes 8 percent of all pregnant women. Obesity quadruples your chances of developing this often-serious condition. Your doctor will keep an eye out for this; symptoms include swollen hands and feet and protein in your urine. If the condition isn't diagnosed and treated quickly, it can be life-threatening for you and your baby.
Extra Weight Can Be an Extra Pain
Leg cramps, pelvic twinges and back pain are familiar companions to all pregnant women. Larger women can expect more of these problems than those with smaller frames. A good belly-support belt is a must and a heating pad can help with the pain. Check with your doctor or midwife before using popular pain-relievers. Even though you don't feel like exercising when you already in pain, it can honestly help. Try a prenatal yoga class!
The Delivery Room Marathon!
Many overweight women, though not all, aren't physically fit. Labor is demanding, and better muscle tone translates into a shorter labor and a lower C-section rate. Get that exercise during pregnancy even if you don't feel like it! It's known to help shorten labor as well as recovery time.
Other Plus Size Pregnancy Concerns
Harder-to-hear Heartbeat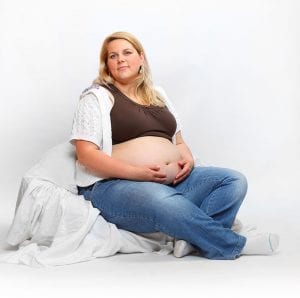 The extra padding may come between baby and the doptone or fetoscope, making the treasured heartbeat less audible. Ultrasounds may not be as clear, showing baby's outlines but missing some finer details. You may not feel the baby move quite as early.
Potential Negative Comments
An OB caring for a larger pregnant woman will definitely want to help her keep her weight down because of the complications mentioned above. He or she may not always be tactful; doctors have varying temperaments and bad days just as we all do. If the doctor or staff seems to be consistently disrespectful, though, rather than caring, it's time to speak up and ask for constructive advice rather than a stream of criticism. Most medical staff really want to help!
Extra Doctor's Visits
Between gestational diabetes follow-ups, extra stress tests and blood pressure monitoring, you may be spending extra time at the OB office. While you're waiting, check out the newest Pinterest offerings on your phone, catch up on those emails or read a good book. Keep the outcome—a healthy mom and baby—in sight!


Concerns and Complications

Pregnancy Basics