For most, the holidays are a time that can become a little hectic. With all of the gift shopping, wrapping, and family events going on, you may find that cooking and baking can get put on the backburner. Which may result in a quite a few unhealthy food choices. However, during pregnancy it is important to make sure that you are maintaining a healthy diet for both you and baby.
The holidays can make it hard to find the time to discover delicious, pregnancy-safe, and gluten-free recipes. To help out with that we have put together a list of tasty recipes for you to enjoy this holiday season!
Gluten Free Recipes for the Holidays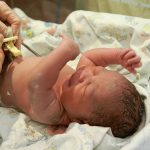 In the past, the common practice was to pass Dad the surgical scissors and have him perform a quick snip just before the newborn babe was whisked away to be cleaned, measured and dosed with vitamin K. Any delay in cord cutting was viewed as unnecessary in promoting general health for the baby or mother. However, recent research suggests that a delay of even three minutes can have a significant positive impact on infants.
Read More

Diet

Prenatal Health