Weight gain during pregnancy is extremely important. The extra nourishment sustains your body during the stress of pregnancy and helps your baby grow and develop. However, gaining too much weight while pregnant may pose added health risks to you or your baby, especially if your pre-pregnancy weight started above healthy limits.
How Much Weight Should I Gain?
To determine how many pounds you should gain, look at your pre-pregnancy weight. Use this number to calculate your body mass index, or BMI. A BMI calculator considers height and weight together, resulting in a more accurate measurement of health than weight alone.
After calculating your BMI, use these guidelines from the Mayo Clinic listed below to determine how much weight you should ideally gain during your pregnancy.
If your BMI falls within the range of 18.5-24.9, you should gain between 25 and 35 pounds.
If your BMI is 25-29.9, a healthy weight gain would be around 15 to 25 pounds.
If your BMI is 30 or above, try to gain around 11 to 20 pounds during your pregnancy.
Here are a few key concepts to keep in mind:
These recommendations are based on having only one baby. If you are pregnant with multiple babies, you will have different weight goals.
Also, if you have other health conditions, such as diabetes, your weight goals may be different.
Finally, it's important to note that the higher your BMI, the greater the odds of having complications during the pregnancy, the birth process, and beyond. For extremely high BMIs, you may not need to gain any weight at all.
In each of these special circumstances, always seek guidance from your healthcare provider for your individual weight goals.

Increased Risks to Mom and Baby
If you enter pregnancy overweight or gain too much weight during pregnancy, you are at higher risk for the following:
Miscarriages and stillbirths
Pregnancy-related high blood pressure or pre-eclampsia
Increased discomfort, backache and varicose veins
Sleep apnea
Difficulty monitoring your baby's growth during appointments and diagnostic tests
Having a larger baby
A difficult vaginal delivery
Needing a Cesarean section
Complications during a C-section
Your baby may experience the following:
Injuries during birth
Low blood sugar after delivery
A higher percentage of body fat, which increases the risk of obesity during childhood
Birth defects
How to Prevent Excess Weight Gain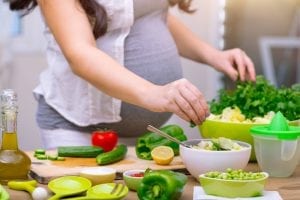 Sometimes, pregnant women mistakenly give themselves free rein to eat anything and everything in sight. Unfortunately, the common phrase "eating for two" is not accurate. Although you are nourishing another living, moving human being in your body, doubling your daily calories is not needed.
In fact, in order to steadily gain the appropriate amount of weight, all that is really needed is an extra 300 calories per day. Below are a few examples of what 300 calories look like:
One medium apple and two tablespoons of peanut butter
12 ounces of Greek yogurt and two tablespoons of honey
one protein bar
Here are three healthy tips to help you stay on track with your pregnancy weight goals.
1. Watch Your Portions. Again, adjust your mindset. Do not fall into the "eating for two" trap. It's important to listen to your body and stop eating when you are full. If you are unsure about what a healthy serving size is, read your food labels. You may be surprised that you are actually eating two or three servings of something instead of just one.
2. Use Your Smartphone to Count Calories. There are lots of free or inexpensive calorie-counting apps. Use an app to count your calories, even if it's only for a day or a week. Seeing the number of calories you are consuming is helpful. Many times, we don't realize how much we are actually eating until it's printed in black and white.
3. Make Smart Choices. Remember that your baby eats whatever you eat. If you are feeding yourself junk food, sweets, and fast food, you are feeding your baby junk food, sweets, and fast food. Make healthy choices whenever possible. This includes fresh fruits and vegetables, whole grains, low-fat dairy products, healthy fats, and lean meats and proteins. You will feel energized, and your baby will be nourished with high-quality foods full of vitamins and minerals.


Concerns and Complications

Pregnancy Basics