Congratulations! Baby's on the way, and everyone around you is excitedly awaiting this new little bundle of joy. As a mom-to-be, your priorities are taking care of yourself in ways that promote total health for you and for your baby.
What happens if your schedule doesn't permit total indulgence with self-care? Perhaps pedicures, pregnancy massages and days at the spa are out of the question. Are there some things you can do to promote your total health and wellness while maintaining a busy schedule?
Good Nutrition: A Foundation for a Healthy Pregnancy
Now more than ever, it is vital that you begin to eat so that your nutritional needs are met through food and simple vitamin supplements. Consuming an extra 300 calories per day is considered adequate for a pre-natal child, and the focus of all of your calories should be on fresh, wholesome foods that are minimally processed.
Perhaps the biggest struggle for pregnant mothers is the lunchtime meal. In particular, if you are still working outside the home, it can be challenging to plan and prepare a healthy lunch that you can take with you for your noon meal. Fortunately for you, we've made it a bit easier with these healthy lunches. Soon, you'll be prepping, packing and planning for the week, knowing that you are providing the best nutrition for you and your baby. Here are some quick and easy healthy lunch ideas that will meet many of your daily nutritional needs.
With recipes like these at your fingertips, who needs a personal chef? Eating well and savoring fresh flavors while pregnant will not only put you in prime shape for delivery, but it will allow you to set up healthy habits for postpartum and beyond. Savor these flavors as you savor your time before delivery, and you'll see the benefits of good nutrition for both of you!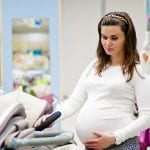 From cribs and strollers to baby monitors and carriers, a new baby requires an extensive list of must-have items before their arrival. For those looking for some guided help, here's a complete guide of key items and considerations to look into before you begin stocking up on all those essential baby items.
Read More

Diet

Prenatal Health