Congratulations, you're expecting! What will the next nine months be like for you? One thing is for sure—lots of changes are coming. One of the changes you notice might have to do with your sex drive. Many women notice that their libido either cools off or revs up when they are pregnant (and sometimes both of these things happen over the course of the pregnancy). Keep reading to learn how being pregnant can affect your libido, trimester by trimester.
The First Trimester
Some women feel fine during their first trimester. Others, though, experience nausea, mood swings, breast tenderness, and other unpleasant (but temporary) symptoms of early pregnancy. If you have these symptoms yourself, you might find that they put a damper on your libido. Don't worry if you find that your sex drive decreases soon after you find out you're pregnant; it's simply due to hormones and you'll soon feel normal again.
If your sex drive actually increases during your first trimester, that's normal, too. Everyone's body is a little bit different, so don't be surprised if your changing hormones actually make your libido more active.
The Second Trimester
Once you're in your second trimester, you're probably past the worst of your morning sickness and other less-than-enjoyable symptoms. You've probably also noticed your energy coming back. For many women, the second trimester is the most enjoyable phase of being pregnant, and it's pretty typical to notice an increase in libido between weeks 14 and 27, too.
Part of this change is due to hormones, and part of it is because you have increased blood flow to your genitals while you're pregnant. You may notice that you crave intimacy more often, become aroused more easily and have a greater degree of natural vaginal lubrication. You may also find that your orgasms become more intense during this trimester.
The Third Trimester
The third trimester can be tricky when it comes to your libido. Your hormones are still active, but from week 28 onwards, you might find that your belly is growing too big to let you enjoy your usual positions comfortably with your partner. You may also be noticing a whole new crop of less-pleasant physical symptoms, such as fatigue and achiness, that make you less inclined to want to have sex.
Some women also feel uncomfortable with the shape and size of their body during their last trimester, which can make it hard to want to be intimate. However, don't assume that your libido will plummet as your third trimester looms. Some women continue to have an extra-strong sex drive right up until they give birth.
Is It Safe to Have Sexual Intercourse During Pregnancy?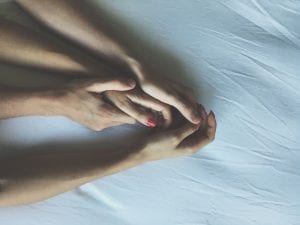 It is generally considered quite safe to have sex while you are pregnant. The baby will not get hurt—it is well protected inside your body. Most positions are fine while you are pregnant, as long as you and your partner find them comfortable. However, if your doctor has put you on bed rest or told you to avoid having sex for some other reason, heed the professional's advice and avoid sexual activity until after you give birth.
The Takeaway

For many women, one of the best side effects of being pregnant is having an extra-high libido. The hormonal and physical changes of being pregnant send many women's sex drive through the roof. However, you might also find that being pregnant lowers your sex drive, and that's normal too. No matter how pregnancy affects your desire to be intimate with your partner, you can rest assured that, after you have your baby, your libido will most likely return to normal.

Everyday You

Relationships and Sex