While all babies are unique, they all must eat. Therefore, it's important to understand proper bottle-feeding positions.
Both breastfed and formula-fed infants eventually drink from bottles. Whether new parents exclusively use bottles or use them for convenience, knowing how to feed your baby is essential to their nourishment. Here are common feeding positions to try, especially for new parents.
Common Bottle-Feeding Positions
This type of approach to feeding helps mimic the breastfeeding experience in the sense that it helps encourage baby to take control with recognizing when they want more to eat and when they are feeling full. The purpose of a paced feeding style is to slow down the eating process to make baby use some effort to get additional milk, just as they would during breastfeeding.
To create a paced feeding setup for baby, baby should sit more upright and you tickle baby's lips with the bottle. Once baby begins to make cues for feeding, place the nipple in baby's mouth and hold the bottle horizontally and waiting to let the milk reach the nipple of the bottle to mimic the letdown process of breastfeeding. During this type of feeding style, every 20 to 30 seconds, tip the nipple of the bottle upward towards the top of baby's mouth to stop milk flow before slowly returning the bottle back to a horizonal position. With paced feeding, remember to also switch sides as you would in breastfeeding. Not only is this style of bottle feeding a helpful way to mimic the breastfeeding experience for baby's feeding habits, it is also a useful option for transitioning from breast to bottle feeding.
A cue-based feeding technique may help provide a more controlled and slower flow rate of milk for baby. To create this type of feeding setup for baby, position baby in a swaddled and elevated side-lying position. The goal for this type of feeding is to minimize the amount of movement of baby and of the bottle nipple in baby's mouth. This type of feeding relies on watching for cues of hunger, cues of feeding problems (like too fast a flow), and cues of fullness so that baby can choose the pace of which food is supplied and determine when they've had enough. This type of feeding style is best for baby's who are born premature or have feeding difficulties, or for parents who are looking to offer a baby-led way of feeding in which they merely respond to baby's cues.
Additional Bottle-Feeding Tips
It's important to learn multiple bottle-feeding positions. It's equally as important to understand safety precautions to avoid accidents.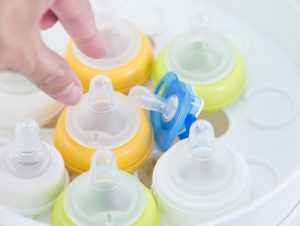 One safety precaution when it comes to bottle feeding is to pay attention to the nipple. Make sure it's the right shape, especially if you're transitioning your baby from breast to bottle feeding. Start with a smaller nipple and gradually increase the size. Keep in mind, the flow on the nipple correlates with the size, so adjust it accordingly.
As mentioned above, make sure your baby's bottle nipple is filled with milk before they begin drinking to avoid an intake of excess air. If baby swallow too much air prior to or during feeding, it can leave baby feeling gassy and increases the chances of acid reflux.
Remember to switch sides. Regardless of whether you are breastfeeding or bottle feeding, switching baby's feeding habits from one side to another can help prevent your little one from developing a side preference and can help give your arms a break.
When taking a break from feeding or stopping, instead of pulling the bottle away and removing the nipple directly from baby's mouth, lean the bottle back and point the nipple toward the roof of baby's mouth so the milk leaves the nipple. This can help ease baby off of feeding without an abrupt stop and can help avoid milk splash.
Burping Tips
Be sure to burp your baby frequently. In fact, you should burp them every two to three ounces of milk. Depending on how much they eat, you can either burp them in the middle of their meal or afterwards. If baby takes in air during a feeding, it can leave them feeling gassy and uncomfortable.
Like feeding positions, there are multiple positions you can use to burp a baby.
Over the Shoulder: For this style, lay your baby over your shoulder as you gently pat or rub their back.
Seated: For this option, sit baby upright and slightly learning forward on their chest against your hand to gently pat their back.
Lying Down: To burp your baby lying down, place baby on their stomach as you rub or pat their back to help them release excess air.
Feeding a baby can be overwhelming, especially for new parents. As long as you take proper safety precautions, feeding your baby is a simple and enjoyable experience. When it comes to bottle-feeding positions, use the one that is most comfortable for you and your baby. Babies eat a lot, especially in the beginning, so mastering any of these techniques is essential to quality feedings and can be incredibly helpful for parents to remain comfortable simultaneously.
Most of all, never leave you baby unattended, even if they're comfortable holding their own bottle. If you have concerns or difficulties with bottle-feeding, speak to a pediatrician or seek out the assistance of a lactation consultant who can help suggest additional techniques for bottle feeding.

Baby's First Year

Postpartum Basics