When you're pregnant, there is much to plan for and a lot to consider. One of the most important details is securing pregnancy insurance coverage.
Pregnancy insurance is an important thing to have when you are expecting a baby. With coverage, you are able to lower all your expenses related to your prenatal care, delivery, and hospital stay. There are ways you can ensure that you have this type of coverage. Having a baby can be as expensive as having to spend more than $10,000 if you don't have insurance.
How to Get Pregnancy Insurance Coverage
If you already have a health insurance plan through your job, it should include maternity coverage. Maternity coverage is one of the 10 most important benefits offered through health insurance plans whether you have an individual plan or one you share with your spouse or family.
In 2014, under the Affordable Care Act, it became mandatory for health insurance plans to include coverage for pregnancy, including prenatal care, delivery, and caring for your newborn. As a result, if you already have your own plan, you must ensure that it includes pregnancy insurance coverage. If your plan is grandfathered, meaning you have had it prior to March 23, 2010, it may not include this essential coverage. Many grandfathered plans have not changed since then, which means in this case, you would have to get a new plan or look into changing it or adding coverage.
If you do not currently have health insurance, you can get a plan through the Affordable Care Act Marketplace at www.healthcare.gov. If you are currently not working, you can also apply for insurance through Medicaid or Children's Health Insurance Program (CHIP) in your state.
Pregnancy Coverage Based on Where You Live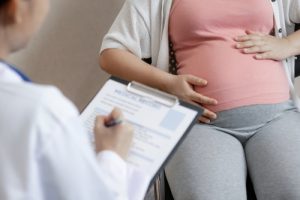 Where you live determines exactly what your health insurance plan includes. However, by law, private insurance plans are required to include 10 essential benefits, which include maternity care and newborn care. Coverage can vary even within the same state depending on your zip code.
Additionally, the health care plan you select determines what is included in your coverage, including when you are pregnant. For example, some plans may include general pregnancy insurance coverage for services like office visits to your OB/GYN but may not cover the costs of your prenatal vitamins.
Whether you are choosing a new healthcare plan or signing up for new coverage, it's important to carefully review all the benefits it includes. You should particularly look into plans that include specific prenatal and maternity services to ensure that they offer what you need. For instance, if you are an older pregnant mom, you will want to make sure that your plan allows for more office visits throughout your pregnancy rather than just a few as you are considered high risk.
Prenatal Care Coverage
Pregnancy insurance coverage should always include a few essential services that you may need during the nine months of your pregnancy. The following services should be included by your insurance plan:
Testing for sexually transmitted infections and counseling
Testing for Rh incompatibility
Prescription for folic acid supplements
Various prenatal tests
Testing for gestational diabetes
Labor, delivery, and hospital stay costs
Breastfeeding counseling and equipment
Birth control after you've given birth
The services included in pregnancy insurance coverage depend on your plan. As a result, if you are choosing a new plan through your job or through Marketplace, it's essential to thoroughly review the summary of benefits offered by any plan you are considering.
In addition to all of these services, you should be able to add your new baby to your insurance plan after giving birth. Be sure to speak with your employer or insurance company or check with your state Marketplace about adding them.

Pregnancy Basics

Preparing for Baby