Guest author: Angelica Murdock
Basal thermometers are very popular among women who are planning to conceive in a few days. Though a BBT thermometer can be of great help in both getting pregnant and avoiding pregnancy, it is mostly used for the prior one by most of the women.
Anyway, if you are still wondering what a BBT thermometer is, and how to use it, you have landed in the right place! Here in this post, we are going to guide you on how to use a basal thermometer in brief. So, let's get started without further due!
What is a Basal Thermometer?
Basal body thermometers are special types of thermometers used to measure body temperature up to one to a tenth of a degree. These thermometers are widely used to know the optimum time of ovulation.
Women are very fond of it as they get to know when they are going to ovulate and detect the perfect time for the act to conceive. One can also be aware of unprotected sex during ovulation to avoid unwanted pregnancy.
Before ovulation, the body temperature of a woman registers 96-98 degrees and after ovulation, the body temperature is 97-99 degrees. A BBT thermometer can offer a great help measuring this temperature more accurately than the regular thermometer.
How to Use a Basal Thermometer?
Well, using a BBT thermometer is not difficult that much even if you don't have any prior experience. Yes, you read it right!
You don't need to be a Pro to use a BBT thermometer and chart your basal body temperature correctly. All you need is to be a bit careful and attentive to measuring and charting the reading. Now, let's guide you how to do the hack in the following;
How to Take BBT Temperature?
Take a digital BBT thermometer at first. It will give you a faster and more accurate reading. It is also very handy and easy to use compared to the traditional mercury thermometer. All you need to ensure is- you are taking your BBT temperature as soon as you wake up from the bed.
And, one more thing- you need to take the temperature every day at the same time to get the most accurate result.
Besides, it is advised by the experts that you must measure temperature before you leave your blanket or do something else like going washroom, having breakfast, or your favorite bed tea or coffee.
How to Chart the Temperature?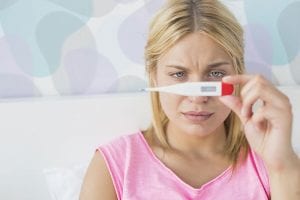 Some BBT thermometers come with a handy chart to have a record of your BBT temperature. You also can collect a chart from your gynecologist.
All you need is to keep a pencil and the chart beside your bed and record the temperature every morning immediately after waking up. Some modern BBT thermometers come with a smart alert system that reminds you to take your temperature and will keep reminding you unless you take it and measure the temperature.
Sounds interesting, right? Sometimes, you may find it a bit disturbing, but you will be benefitted at the very end. This way through regular and timely charting, you will discover a pattern in your body temperature within a few months which will help you know your cycle better.
Ovulation:
You ovulate when your body temperature rises higher than your regular days' temperature. This ovulation period may last up to 3 days, and after this, the BBT gets normal like before. If you keep an eye on this issue, you will notice that during ovulation, your BBT is about 97-99 degrees.
Your temperature may rise high all on a sudden or gradually. You may wonder that it is a very slight change of temperature and how it can prove that you are ovulating right? Well, this is why BBT thermometers are used for.
They can count from 1 to 10th of a degree very accurately. Thus, a BBT thermometer helps to detect the slightest change in your basal body temperature and determine when to have sex to conceive and when to avoid unprotected sex to avoid pregnancy.
Anyway, here are a few changes that you may experience in your body and mind during ovulation;
Exhaustion and illness
Dizziness
Nausea
Disturbed sleep
Emotional distress
How Much Your BBT Can Fluctuate During Early Pregnancy?
When conceived, you are more likely to experience a sudden change in your BBT. Wondering, how high it may rise? Practically, it does not rise too high to measure using a general thermometer. However, if you are using a basal body thermometer to check your BBT, you may experience an average rise by 0.4 degrees. In this case, if your BBT is 98.6 degrees, you may experience a rise up to 99 degrees when you conceived. And, this may continue during your first trimester.
Angelica Murdock is a working mom of two lovely children. She has a parenting blog named Welcome Parenthood, where she shares her personal experience as well as parenting tips, tricks, and guideline to make parenting comparatively easier for other working moms.

Pregnancy Basics