When it comes to pregnancy, a variety of changes take place with the body. Some of these changes are obvious, such as a growing belly and possible stretch marks, while others are often times unheard of until they are experienced. Among these rather unpleasant side effects is a medical issue that can, not only occur during pregnancy and breastfeeding, but may also impact a woman at various stages in her life. This occurrence is known as nipple fissures and is most common in breastfeeding women.
What Is A Nipple Fissure?
This change can occur to one or both nipples on a woman's breast and is an irritation, cracking, or soreness of the nipples. Nipple fissures may present themselves as irritation and swelling or progress to a tear, scratch or wound to the nipple or the structure's surrounding skin. Unless infection occurs as a result, nipple fissures can typically be treated easily at home.
Common Causes of Nipple Fissures
The repetitive force a suckling baby applies to his or her mother's nipples may, on certain occasions, precipitate this type of physical irritation. However, this ailment can be caused by a variety of issues, beyond breastfeeding. While nipple fissures are most common during breastfeeding, they may also occur with athletes as it is also common among those who are prone to nipple chaffing. Other causes include:
Pregnancy
Expecting women experience changes in their bodily concentrations of various hormones. This natural occurrence can bring about a stretching of the breasts' skin, which may potentially lead to irritation of the nipples.
Pressure or Irritation of the Nipples
In addition to women who breastfeed, those whose nipples experience increased levels of friction might also be susceptible to developing fissures. Friction can result simply from exposing the nipple to a tight-fitting bra or shirt. Engaging in vigorous exercise such as distance running or cycling whereas loose fitted or damp fabric causes irritation to the nipples. Moisture is also a common culprit, as nipples that are frequently damp can easily develop nipple fissures due to skin irritation. Such moisture is typically the result of a baby's saliva (in women who are breastfeeding), excessive perspiration and the application of too much ointment or skin lotion.
Allergens
Specific chemicals can elicit skin allergies that could affect the nipples and surrounding skin as well. Substances often at fault include skin lotions, detergents, soaps, perfumes and shampoos.
Infection
In more severe cases caused as a result of infection, fungal infections such as thrush may also precipitate fissures and other nipple irritations.
A Look at the Symptoms
Typically, the most common manifestation of nipple fissures is increased redness, chafing and swelling around the impacted nipple. Other noteworthy symptoms may include pain or discomfort, scabbing, cracking or bleeding. The severity of the manifestations and duration of the problem will vary depending upon the condition's exact cause and length of irritation.
What are the Treatment Options?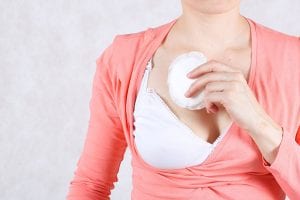 In most instances, fissures can be treated without medical intervention and usually abate on their own. Afflicted women can hasten the healing process, however, and alleviate the associated discomfort by employing several remedial measures.
Applying Antiseptic Preparations on The Impacted Areas
Over-the-counter ointments can often times help the wounds heal quicker and prevent the potential for infection.
Cover Existing Fissures with Gauze Pads
Covering the irritated nipple with gauze can help prevent infection or exacerbation of the existing condition by protecting the nipples from further irritation.
Apply Warm Water Compresses
Warm water can help soothe and clean the cracked or scabbed nipples. Just be sure to fully dry the skin prior to applying gauze to the nipple or putting on a shirt or bra.
Receive Allergy Tests
If the problem is precipitated by some type of allergen, an allergy test can help determine the offending substance.
Preventative Measures to Take
For some women, avoiding activities that can cause additional irritation may be difficult, especially if you are breastfeeding. Women can potentially avoid developing fissures by limiting rigorous physical activity, and avoiding the use of products containing substances that cause skin irritation. For breastfeeding women, there are a few safe approaches to treat this condition such as applying an over the counter ointment that is safe to use while breastfeeding, bathing the nipples in warm water after each feeding and using nursing pads inside a bra. Another approach to treat nipple fissures while breastfeeding includes expressing some milk prior to breastfeeding and gently rubbing the expressed milk into the nipple. The reason for this is that breastmilk can help soften the nipple and may provide antibacterial protection to the affected nipples.
Can Complications Arise?
The most common complication with nipple fissures is infection. If an infection spreads far enough, it may lead to lactational mastitis, or a breast abscess, and may require surgical intervention to drain the wound and clear the infection away, however if treated early, these issues can typically be avoided. Breast infections can also occur if the breastfeeding baby has thrush, a common type of yeast infection. Thrush can cause cracking and itching of the nipples to occur, which can make nipple fissures worse. If your baby has thrush be sure to rinse your nipples in warm water after breastfeeding to remove excess breastmilk as yeast thrives in breastmilk.
Most fissures are fairly short-lived and usually dissipate with time and sometimes without treatment. Should the problem recur or worsen, an infection may have developed. In such instances, a medical diagnosis and more aggressive form of treatment might be necessary.

Breastfeeding

Pregnancy Basics

Symptoms and Changes