When it comes to announcing your pregnancy, there's nothing more exciting than sharing the important news with your friends and family. And there's nothing more exciting than catching friends and family off guard during a holiday celebration with your special announcement.
Pregnancy Announcement Ideas for Hot Summer Days
If you're looking for a creative pregnancy announcement idea for the summertime that doesn't center around a holiday, below you will find a few ideas on how to announce the happy event in a creative way during the hot summer months.
Outdoor Announcement Fun
Picnic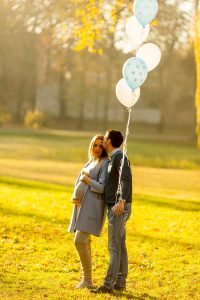 A picnic in nature is a wonderful idea on hot summer days. Why not take advantage of the outing to tell your loved ones about your pregnancy? Sit on the blanket together with your partner and the children (if you already have some) and place baby items, such as onesies, little shoes and plush toys, next to baby-sized finger food. You and your significant other can also hold baby books in your hands. Then press the self-timer on your camera – and voilà! You have a memorable photo that's ready for sharing.
Balloons
Order balloons in letter form (for example, from Amazon) that spell the word B A B Y. In a nice outdoor spot, such as your garden or a park, hold up the balloons together with your partner and take a snapshot. The photo will speak for itself, and your friends and family will immediately understand the happy news.
If you already know the sex of your baby, you can also choose a pink or blue balloon, for example, and decorate it with the words "Baby on Board" or "New family member arriving on (date)."
At the Beach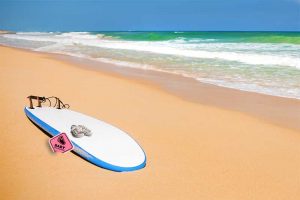 Especially when you're on vacation, there are many fun ways to incorporate the beach into your pregnancy announcement. For instance, you could take a picture of yourself and your partner holding your ultrasound image and then send it to friends and family.
If you want to get even more creative, simply place a pair of baby shoes on a surfboard with a sign that says "Baby on Board" for the perfect snapshot.
Another option is to stick two pairs of flip-flops (yours and your partner's) in the sand and to place an additional tiny pair with a sign that says "Baby arriving on (date)" next to the adult shoes.
Fun in the Water
Enjoy the Lake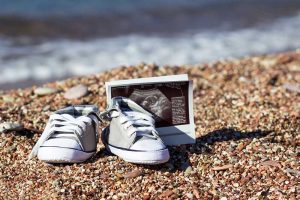 Do you like to go fishing? Then why not announce your pregnancy in this creative way: Take a photo of yourself and your partner dressed in fishing gear in front of a lake, with a sign that reads "We're expecting our biggest fish on (date)" or "Future angler arriving on (date)" placed next to you.
Pool Side Excitement
If you enjoy being in the water, you can also use the swimming pool to announce your happy news. Simply stand in the water and hold a beach ball on which you've written "Little one on the way" in front of your stomach.
Those who are especially athletic and want to take a more unusual photo can follow in the footsteps of model Kayla Reid and her fiancée – however, this special photo will require some assistance: Stand in the pool so that your body is completely submerged, except for your head. Then have your partner dive underwater and kiss your stomach while a friend who is in on the secret snaps a photo. You can then creatively edit the photo by adding the words "Arriving on (date)" or "Hopefully a swimmer."
If you're looking for something even more over the top for a pregnancy announcement that will go off with a bang, here are some ideas to get your creative juices flowing.
Fun 4th of July Themed Announcement Ideas
Since fireworks are a given for July, include a creative note written in sparklers that you can photograph and hand out to friends and family. Or include poppers, confetti bombs or smoke sparkers to have a dramatic gender reveal (but please be safe while doing it, nothing ruins a gender reveal or pregnancy announcement more than starting a fire or causing an injury). To give you some 4th of July announcement inspiration, here are four Independence Day themed approaches to creative announcements.
Write it in Lights
Grab some sparklers and a camera and enjoy writing out your message in a slow motion image, (this may require a bit of photo editing or a professional photographer if you aren't familiar with the process).
Dress for the Occasion
Since it's 4th of July, dress up in your red, white and blue attire and create a custom designed shirt to announce your big news. This can be professionally purchased screen printed, custom vinyl made, or simply colored and decorated with markers on a blank shirt. Get creative and have fun with your wardrobe.
Patriotic Bump
Chances are you've seen a number of bump photo ideas, you may even already have taken some during the first couple of months in your first trimester. For this pregnancy announcement, create a patriotic bump photo by baring your baby bump and wrap it, cover it, or strategically drape an American flag to incorporate the theme of the 4th.
Centerpiece Subtlety 
Having a 4th of July BBQ and looking for some subtle decor with an epic surprise? Create centerpieces with flags and confetti in baby food jars and formula tins. Add a tiny star sign in the middle that says something cute like "a little firecracker fun starting [expected due date]" and sit back, enjoy your food and wait to see which family member notices the details first.
Regardless of which announcement route you choose, enjoy celebrating your big news and have a happy and safe 4th of July!
Celebrate the 4th with Custom Red, White and Due Signs!
If you're looking to incorporate a pregnancy announcement into your Fourth of July plans and want a little signage to accompany the decorations, we've got you covered!
Browse through these printable signs and click the image to download, print and customize them for your party. Have some fun with these and cut them out, add extra decorations or download, customize and share them on social media to make your big announcement official! Enjoy!


DIY Projects

Preparing for Baby