With 2020 being all about the global pandemic, it's time to have some fun and incorporate humor into your quarantine pregnancy announcement.
In this article, we'll take a look at some super cute quarantine pregnancy announcement ideas that will give everybody a smile and a laugh. Let's dive in.
Quarantine Pregnancy Announcement Ideas That Everyone Will Enjoy
1. My Parents Didn't Practice Social Distancing – Due March 2021
No matter how you personally feel about the new practice of social distancing, it should go without saying that your pregnancy stemmed from the fact that you and your partner haven't social distanced from each other.
Not in the least.
Since many people struggle with this "new normal" requirement during COVID-19, why not make some lighthearted good out of it with your pregnancy announcement?
It'll put some much-needed smiles on people's faces while bringing forth a lot of laughs.
2. Mom and Dad Thought They Had All the Protection They Needed – New Baby Arriving February 2021
For this announcement, a picture with some hand sanitizer, Lysol spray and disinfectant wipes will go a long way toward showing that, while you've been prepared to protect yourself against COVID, you weren't quite as prepared to protect yourself from getting pregnant!
Friends and family will get a kick out of how you draw this parallel, especially if your pregnancy wasn't planned and will be coming as a huge surprise to everybody.
3. Our Quarantine Hasn't Been So Boring After All
How have you been spending your time in quarantine since the pandemic was announced in March? This quarantine pregnancy announcement goes straight to the heart of what you've been up to, in a cute "wink-wink" kind of way.
This one works especially well on social media if you haven't been posting status updates about how bored you've been these last few months.
4. One Unexpected Great Thing Has Resulted From This Quarantine
While this isn't the type of announcement that will necessarily make people laugh, it is a great reminder that the important things in life continue to move forward even under the threat of a worldwide pandemic.
For this announcement, consider a photo with a few images of your ultrasound and a bright, cheery background that includes some cute stuffed animals.
5. A Product of Quarantine and Chill, Coming January 2021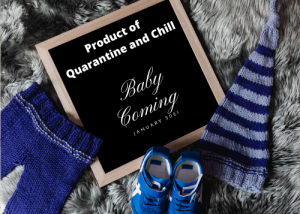 This one is a play-off of the "Netflix and chill" saying that's so popular in the dating world.
When COVID-19 quarantines were announced, we were all told to basically quarantine and chill until the curve was flattened.
What came out of your version of quarantine and chill? As it turns out, a new baby is now on the way and it's time to let everybody know.
6. Mom and Dad Couldn't Stay Six Feet Apart
This quarantine pregnancy announcement not only tells everyone that a new baby is on the way, but it's also a testament to the love you and your partner share.
For an added laugh, consider including in your announcement photo a couple of Corona beers and a lime, along with some snapshots of your ultrasound.
Bottom Line
While it's true that we're living in some of the most unprecedented and unpredictable times in our lives, that doesn't mean we shouldn't have as much fun as we possibly can.
With a new baby on the way, these quarantine pregnancy announcement ideas are certain to be remembered by everyone who sees them.


DIY Projects

Preparing for Baby