You may have used "bean" or other cute pet names for your baby up until now, but the time has come to choose that full name for your child. Finding the first name is just half of the task-at-hand; you need to find the perfect middle name for your child as well. You may be overwhelmed by the many options that are available, but we have some tips that could help the process go a little bit smoother. We will also go over the latest middle name ideas based on popular trends for babies. Remember that every aspect of your pregnancy should be enjoyable, and choosing a baby name is one of the many joys that you will experience during this wonderful time!
In With the Old
So many times you may hear that name trends are always fresh and new, but that is not always the case. In fact, some of the trends for middle names currently include traditional options. These old-fashioned baby names often have a significant importance for the parents to be. Some parents choose the baby's middle name based off of an important person in their lives that may be living or deceased. When women marry and assume their spouse's surname, they may want to use that surname as their child's middle name; this is a way to carry on a family legacy. Examples of using a surname as a middle name include:
Alexander
Ross
O'Connor
Watson
Paige
Reese
Hunter and many more…
A Place or Common or Abstract Noun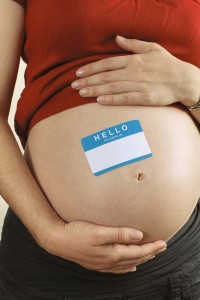 When choosing baby names, you may think about a place that you loved to visit–or somewhere that you have longed to visit, but have not made the trip yet. You could also choose a common or abstract noun; yes, almost any common or abstract noun could make a great middle name for your baby. When it pertains to choosing a middle name for your baby, the options are endless. Some places that you could use as a middle name for your child include:
London
Paris
Montana
Georgia and more…
Choosing a common-sounding word as a middle name may seem improbable, but the truth is, many parents choose a common or abstract noun for baby names. Some examples of words that you could use for your child's middle name include:
Lark
Pine
Love
True
Harmony
Lake and more…
If you are choosing to use a common or abstract noun, make sure you put a lot of thought into that word. Think about something that you have said throughout your pregnancy. Perhaps it is actually a favorite color. Have you chosen a color for your child's nursery? That color could be used as your child's middle name. Remember the famous novel-turned-film, Gone with the Wind? The child of the leading characters was named Bonnie Blue Butler, due to the color of her eyes. Now, you could wait until you have delivered your child and choose the name based off of the eye-color, or you could pick a color that you love and give your child a name during your pregnancy. Other nouns that could be used for a baby's middle name include those that are relevant to the weather or a particular season, such as:
Autumn
Winter
Rain
Sky
Midnight
Celebrity Names
Taking notes from celebrities who use intriguing names like Jay-Z and Beyonce who named their baby girl Blue Ivy, is a current trend. Some of the top middle name trends that celebrities are choosing for their baby's middle name include:
Rose
Monroe
Mae
James
Lee
Tips to Use
When you are searching for a middle name to give your precious baby boy or girl, choose the name that has meaning to both parents. Even if you choose a common name, or an uncommon middle name, the name itself will have special meaning to you and your partner, which is why you will need to take some time when choosing it. And if you can't decide on a single name, remember that your child can have more than one middle name. The best tips when choosing an on-trend middle name is to look beyond the "normal" spectrum of names and add something different. Even if you choose a traditional middle name, it could accompany a unique first name. If you choose the color blue, you could be more creative and use a unique aspect of that color, such as Cerulean or Aqua. For instance, Nicole Richie named her son Sparrow James Midnight. The choice is yours, so while you are going through your pregnancy, make sure you take the time to choose the perfect middle name for your baby girl or boy!

Preparing at Home

Preparing for Baby