Decorating for a baby nursery is an exciting and special time for new moms and dads. However, it can feel overwhelming and a little daunting, too. Below are a few ideas that should help the creative juices start to flow.
Nursery Ideas for Boys
Some new moms and dads love the idea of creating a room that is gender specific for their baby. Little boys' rooms can be fun for both parents to decorate. Color palates that work well in boys' rooms tend fall on the blue or green side of the color spectrum. Many moms and dads also choose to decorate their little boys' rooms with pictures and decals representing sports equipment like footballs, baseballs and hockey sticks. Some simply choose to hang a baseball bat on the wall or decorate shelves with baseballs or soccer balls. Many parents choose a gender specific décor to let others know the sex of their child without needing to ask. Other parents choose to include gender specific decorations in the room of the opposite gender.
Nursery Ideas for Girls
While any color looks fantastic in a newborn girl's room, many parents opt for soft tones of pink, cream or pale yellows. While girls can definitely rock the same decorative ideas that are popular in boys' rooms, many parents choose feminine colors and objects to decorate a little girl's room. Shabby chic babies' rooms are very popular right now, and parents scour stores for furniture that looks like it came straight from the antique mall. Parents might choose to decorate shelves with teddy bears and dolls, while other parents love the idea of introducing their baby girls' to sports, dance or other hobbies from an early age.
Non-Gender Specific Nursery Ideas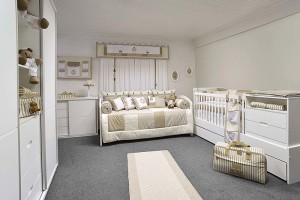 Many parents choose to learn the sex of their babies before birth, but many complete the healthy pregnancy without finding out the sex, so a non-gender specific room works perfectly in these cases. Many parents opt for neutral tones of yellow, brown and cream for a warm touch to a room that doesn't display the sex of the child. Many parents are now opting for non-gender specific newborn rooms because they don't want their child to believe in stereotypes from an early age. Themed nurseries are perfect for non-gender specific rooms because instead of highlighting the baby's sex, they create a curious environment for baby to feel entertained and loved.
Themed Nursery Ideas
Many parents have a relationship to a specific theme for their child's room. Some parents love sailing or the ocean, so they opt for blue and green tones, pictures of the ocean and sailboats dotting the shelves. Some parents prefer fun and silliness, so they love a jungle theme that has plenty of animals to teach their children about the animals of the world as they grow older. Wallpaper with animals including monkeys, elephants, giraffes, lions and bears work well in these rooms. Other themes could include pirates, movies, music or dance.
Customized Wall Hangings
The days of nursery decorating with wallpaper and pictures are in the past. Now, parents can get really creative with their design ideas, opting for wall decals and letter designs. Wall decals come in a variety of styles and colors. They stick right to the wall without ruining the paint. Parents can get a decal that covers an entire wall that is a scene of the beach or the rainforest, transporting their baby to another world. They can get lettering that customizes the room for the baby. The words can spell out baby's name or an inspirational quote. Parents can also buy block letters to place on shelves or tables that customize the room even further.
Crib Decoration Ideas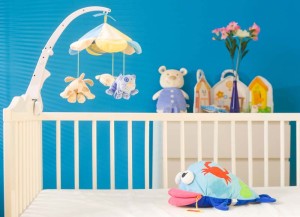 With so many decorations throughout the room, the area around the crib should be no different. Many cribs are available on the market today and there's definitely one that fits every parent's design themes. Cribs come in every color of the rainbow and every style. Parents can purchase cribs that look like antiques, cribs in the shape of cars, trucks or trains and cribs that invoke the feeling of a favorite cartoon character. Plenty of mobiles are sold not too that could help pull the room's theme together (animals, pirates or horses), but they can also help soothe baby and help baby fall asleep at night and stimulate the mind in the morning.
Window Treatments for Nurseries
Window treatments not only pull a room together, they can allow in as little or as much light as baby needs. Parents can buy lacy curtains to complement a shabby chic room, they can buy animal curtains to complement a jungle themed room and they can even buy curtains that complement practically any color scheme. When purchasing curtains, parents should choose a combination of window treatments that allow different amounts of light into the room. They can buy white curtains that allow light in but still allow some privacy, and they can buy blackout curtains that help baby sleep when going down for a nap.

Preparing at Home

Preparing for Baby