Women experience benefits from chiropractic care during their pregnancy. Pelvic alignment during pregnancy can provide a successful delivery and more.
One of the main functions of a person's pelvic bone is to properly transfer the load generated by their body weight. The function of a pregnant woman's pelvic bone is to properly handle the alignment changes that happen during their pregnancy. When misalignment occurs, the pelvic bone of a pregnant woman can cause urinary incontinence, pain and other types of complications. Many women deal with these uncomfortable symptoms with chiropractic treatment.
Chiropractic Treatment
There are women who feel that chiropractic treatment saved them during their pregnancy. This is something that has helped women prior to conception as well as during the postpartum period. Pelvic alignment during pregnancy provides women with a safe and natural way to deal with the various challenges associated with pregnancy.
Influence During Pregnancy
Chiropractic care can have a positive influence on a woman's pregnancy. It doesn't matter if it is a woman's first or fifth pregnancy. This is a good way to help a baby's journey into the world. It can help address many pregnancy symptoms, including:
Aches and pains
Restless sleep
Acid reflux
Carpal tunnel
Pelvic Alignment During Pregnancy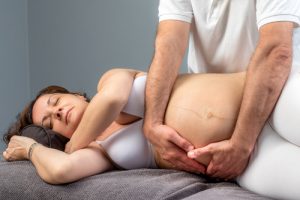 It is common for pregnant women to enjoy the chiropractic experience. It enables them to be comfortable as they lie on their stomachs. There are chiropractic tables designed specifically for the treatment of a pregnant woman. Once a chiropractor has a complete health history, there will be a thorough chiropractic examination performed. This will make it possible to locate the areas of a pregnant woman's spine that are restricted. It is done by feeling each of the vertebral segments. A determination will be made based on how they relate to the vertebrae above and below it. Close attention is always paid to the sacral, pelvic, sacroiliac joints and lumbar areas. These are areas of a woman's body most affected by the changes that occur during pregnancy.
Spine Support
Chiropractic treatments are designed to provide support for a pregnant woman's spine as her body changes. This is done in a natural and effective way. When a woman is first pregnant, her hormones are adjusting to a new normal. Her muscles are being lengthened to prepare for her growing belly. As a baby grows, the center of gravity for a pregnant woman is constantly changing. This will create additional pressure on a pregnant woman's sacrum and lumbar spine. A pregnant woman's spine and body are working hard to compensate for these changes and to adapt to them. During the later stages of pregnancy, a woman's pelvis and hips begin to open up. This is when the ligaments could become strained.
Optimal Pelvic Alignment
When a pregnant woman's spine is aligned correctly, her body is better able to adapt to the changes they are experiencing. Pelvic alignment during pregnancy improves her level of comfort. When it comes to the growing baby, optimal pelvis alignment decreases intrauterine constraint. This helps promote sufficient room for an unborn child to grow and develop. When a pregnant woman has unequal or unilateral tension on her uterine ligaments, it can interfere with her baby. A baby's instinctive ability to correctly position itself for natural delivery could be harmed. These ligaments can be helped directly with chiropractic adjustments.
Healthy Pregnancy
One of the most popular benefits of chiropractic care during pregnancy is how it helps to maintain a pregnant woman's health. It is done without using medication. Research has shown that over 83% of pregnant women who get chiropractic care report experiencing an improvement in their lower back symptoms. Other research has shown that labor times were decreased by more than 30%. A study conducted on pregnant women who had chiropractic treatment showed they were able to carry and deliver with increased comfort. The need for these women to have pain medication during delivery was decreased by over 50%.
Chiropractors who have been trained to work with pregnant women know how to use techniques and equipment that will avoid unnecessary pressure on a pregnant woman's abdomen. In addition to chiropractic care, they can provide safe and effective stretches and exercises a pregnant woman can do during their pregnancy. Many healthcare providers familiar with pelvic alignment during pregnancy know the benefits of chiropractic care. They will often recommend chiropractors with the most experience providing treatment for pregnant women.

Pregnancy Basics